EPF Youth Group Fall Meeting – Drawing Priorities and Future Actions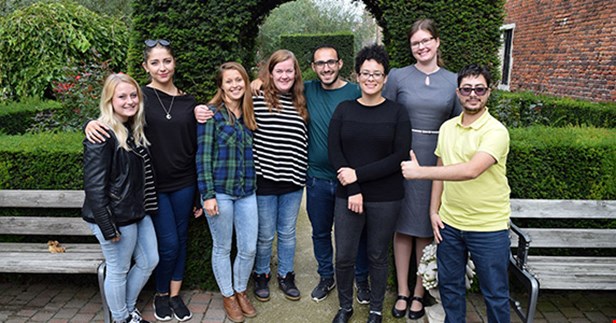 The EPF Youth Group fall meeting took place early October in Leuven, Belgium, for three days of brainstorming on future projects and strategic objectives. The meeting also saw the election of a new Board and President, opening a whole new chapter in the group's life!
It all started with a warm welcome to the newest Youth Group member Nathalie Schwarz, a 21-year-old girl from Germany, and member of the European Federation of Crohn's Disease and Ulcerative Colitis (EFCCA) Youth Group, representing the German organisation DCCV.
The meeting also gave the opportunity for the EPF Youth Group to reflect on the Summer Training for Young Patient Advocates, whose first edition happened in Vienna this July. Taking from the very positive feedback of the participants, the members discussed potential scenarios for the coming Summer Training, including the advocacy sessions to focus on.
EPF Youth Group elects a New Leadership!
On the second day, the Youth Group held its internal elections for new Board members:
Andreas Christodoulou – elected as President of the EPF Youth Group

Yolita Pavlova – elected as Vice-President of the EPF Youth Group
Andreas is 27, from Cyprus with a Computer Sciences background. By the age of 17, he was diagnosed with a rare chronic condition called IPT (inflammatory pseudotumor) disease. His experience as a cancer survivor incited him to join the Pancyprian Federation of Patient Associations and Friends and to work for the biggest Cancer Awareness Association in his country.
Yolita is 26 from Bulgaria where she studied Sociology. She is a Youth Representative with the Confederation "Health Protection" Bulgaria and joined the EPF Youth Group in 2012.
Priorities for 2018: raising awareness on chronic and invisible conditions
The rest of the meeting focused on potential projects and networking events for 2018. The Youth Group hopes to once again participate in the YO!Fest festival, which will be held in Strasbourg on 1-2 June 2018, with a stand hosting interactive games and activities that will help visitors understand how young patients with chronic and/or invisible condition feels and the challenges they face every day.
The Youth Group also refined the roles and responsibilities of its members and discussed a few additional ways the members could all support member recruitment and EPF's policy and advocacy work.
All in all, a quite strategic meeting, where young patients got to decide and set up priorities and important choices for the future of the EPF Youth Group, shaping the next generation of patient advocates!