October 2017 – European Health Parliament: Meet Healthcare's New Young Heroes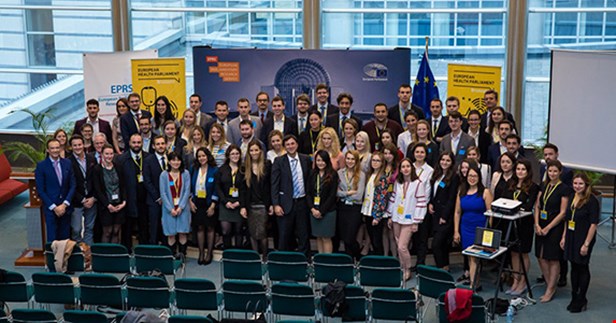 The third edition of the European Health Parliament (EHP), an initiative bringing together young experts in healthcare, was officially launched on the 17/10 in Brussels. The programme gives young Europeans the opportunity to present their priorities on the upcoming challenges for healthcare in Europe.
What is Europe's role versus that of the Members states? What should Europe's priorities in health policy be? These are some of the questions that this third edition of the European Health Parliament (EHP3) will try to address.
This new term was officially opened with a first plenary session, in the European Parliament in Brussels. Partners and committee members gathered for a full afternoon of discussions, paving the road for each committee's future recommendations.
The new challenges facing healthcare systems (demographic pressure, technology, prevalence of chronic diseases) need new solutions: the idea of the European Health Parliament is to get innovative and structured input from tomorrow's health leaders. As underlined by supporting MEP Brando Benifei (S&D, Italy): "It is crucial to bring in young professionals to exchange with law-makers, as we know health is a top concern for young Europeans".
Representing the European Commission, Maya Matthews, Deputy Head of Unit Strategy and Coordination at DG SANTE, called for EHP participants 'to be smart, selective, and identify synergies and recommend things to the Commission that are grounded in what we actually CAN do'.
EPF joins as a partner for the first time!
This edition also marks the first time that EPF joins this exciting programme as an official partner, promoting the participation of young patients in health policy.
Our Director of Operations and Engagement, Camille Bullot took the floor during the launch event to underline the importance of future health collaboration for patients in Europe, insisting on the value of involving patient organisations & civil society in policy-making process, taking the recent improvements in public health (life expectancy, protection standards, etc.) as prime examples of EU success stories. "There has never been a stronger case, or a more vital moment for Europe to work together to protect our health. We need strengthened health collaboration to meet the legitimate expectations of European citizens!", Camille concluded.
Tom Smith, a patient advocate and new member of EHP, explains why he joins this adventure: 'During my time with the European Health Parliament, I hope to begin to affect a change of philosophy within policy makers and the legislative influence community. I intend to amplify the notably absent patient voice from proceedings, not just in the name of balance, but in the name of success – I am going to demonstrate to the partners of the EHP and my fellow parliamentarians why it is in their interest to listen to us'.
What is the European Health Parliament?
The European Health Parliament (EHP) is a platform of 55 young professionals/students from across Europe, who are working together over 7 months, with the aim of shaping the future of healthcare in Europe. Participants are working and brainstorming in 5 committees around specific topics (see below). They meet with key stakeholders and share their ideas with policy makers, NGOs, media to deliver high-level policy-oriented recommendations to be presented to the European Commission as possible legislative proposals. This year EPF is proud to become an official partner of the initiative, together with Johnson&Johnson, Google, Politico, EU40 and the College of Europe, representing the patients' voice in this ambitious group.
The EHP has identified, in liaison with the European Commission, 5 committees focusing on policy areas where the EU institutions would like to hear from young professionals new policy solutions for the forthcoming years.
The EHP#3 committees are:
Committee on Outcomes–based Healthcare Systems

Committee on Robotics, Artificial Intelligence & Precision Medicine.

Committee on Antimicrobial Resistance.

Committee on a Health Workforce Planning.

Committee on a European Vaccine Initiative.
For more information, please visit http://www.healthparliament.eu/.
Contact:Valentina Strammiello, Programme Officer.