Digital Health Europe Project Kick Off Meeting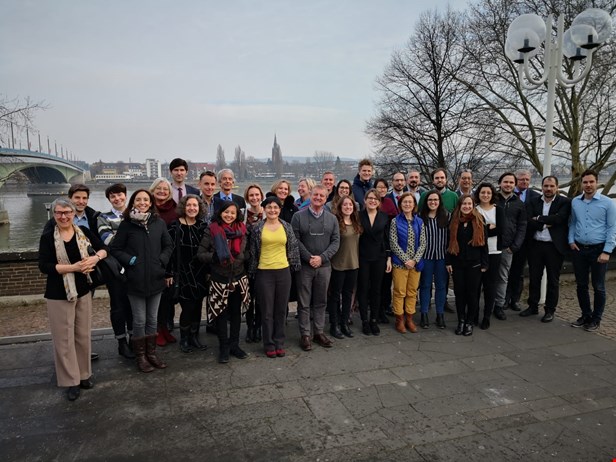 On 24 and 25 January, EPF joined 16 other project partners in the kick off meeting of the DigitalHealthEurope (DHE) project – a Horizon 2020 initiative within the Framework Programme for Research and Innovation, which will last 24 months. The full project title is "Support to a Digital Health and Care Innovation initiative in the context of Digital Single Market strategy". In short, the project will provide comprehensive, centralised support to the digital transformation of health and care (DTHC) priorities of the Digital Single Market (DSM).
The project partners will bring a broad range of collective knowledge and expertise, originating from their leadership and engagement in the whole spectrum of activities, from interoperability and standards to health service innovation, from the technical to the policy level. The project will support large-scale deployment of digital solutions for person/patient-centred integrated care by identifying, analysing, and facilitating the replication of highly impactful best practices. Building on the unique composition of the consortium, the project will establish and manage 3 collaboration platforms (EPF leading one of them) to align all efforts of ongoing and future initiatives supporting the three DTHC priorities, namely:
Citizens' access to and management of data relevant to their health and wellbeing;
Demand for infrastructure for health data, research, prevention & personalised medicine;
Digital solutions for person/patient-centred integrated care and their scaling-up across Europe.
The collaborative work will lead to common strategic agendas and commitments for action that will boost innovation and progress in the respective topics.
EPF's role in the project
EPF will participate in 7 out of the 9 work packages of the project. EPF will be leading work package 6 –setting up and managing a collaboration panel between citizens/patients and healthcare providers. The objectives of this section of the project can be summarised as follows:
To establish a functional collaboration platform on key aspects of digital solutions for person-centred integrated care;
To identify barriers and enablers related to the procurement, adoption, trust and integration into care pathways of digital solutions that strengthen the interaction between citizens/patients and healthcare providers;
To explore the possibilities of exploiting real world data and data reported by patients as a means to improve quality of care and health management (incl. feedback from patients) and build on patient empowerment;
To provide an instrumental contribution to the implementation of EU policy on the third DTHC priority.
DHE project insects with EPF's main priorities in digital health – for example, the work EPF has done on electronic health records (EHR) corresponds closely with the overall objectives of the project. EPF has already been involved in various similar projects to collect more evidence base in this area, with a strong focus on the patients' role in eHealth, as well as needs and expectations of patients towards eHealth services and tools.
For more information please contact Lyudmil Ninov and/or Kostas Aligiannis