EAMDA Executive Committee Meeting – new strategy and ideas for the future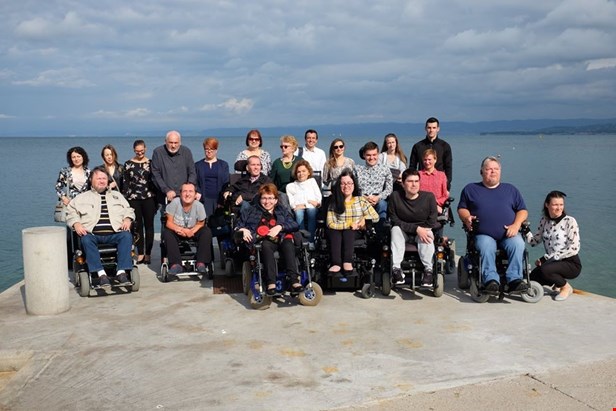 Blog by Jana Popova, EPF Youth Group Member
This year the European Alliance of Neuromuscular Disorders Associations (EAMDA) organized its annual meeting with Executive Committee members and partners of the association on the beautiful Adriatic coast. Between 18 October to 20 October rehabilitation center "Dva Topola" in Izola was a host of 35 patient advocates and representatives of different patients' organizations.
All delegates represented the work of their associations and explored different possibilities to enhance the cooperation with EAMDA. I had the honor to take part in the event not only as an Executive Committee member, but also as a representative of the EPF Youth Group.
Challenges and opportunities for new projects
The meeting kicked off with an interesting guided tour of the departments of "Dva Topola". This rehabilitation center is a disability company employing people with NMD and provides accessible environment and professional rehabilitation and medical care for people with neuromuscular disorders (NMD).
The afternoon session focused on the challenges for project management in patient organizations. EAMDA representatives shared experiences on how to develop united network of support and collaboration with European patient organizations and their communities of people with neuromuscular disorders. This was a highly interesting presentation, which helped me acquire new knowledge in the field. Moreover there were positive examples on how to establish patient associations for NMD, presented by the MDA Turkey and MDA Romania.
There were also presentations about the challenges in the regulatory environment, presented by Dimitrios Athanasiou from the World Duchenne Organization and how to develop partnerships in neurology, presented by Donna Walsh from the European Federation of Neurological Associations (EFNA). Their experience in the field of patient advocacy made me believe that as patients we are the leading pilots of our health and social inclusion. We should never give up and speak out about the things which are important for us.
Ideas for strategic development
The second day of the meeting started with a roundtable about the strategic development of EAMDA for the next 5 years. All delegates shared valuable feedback, which helped for the creation of a concrete plan. Some aspects were related to strengthening the media visibility of the organization, and aimed at thinking about the establishment of a youth group. Before the official end of the meeting there was an interesting presentation about the activities of disability company "Birografika BORI", Slovenian printing company, which hires people with NMD, overcoming the stigma on the labour market. The 7th EAMDA EC Meeting successfully finished with the conclusion that the association plays a significant role in the global society and improves the social policy on local and international level for people with neuromuscular disorders.