EPF Youth Group treads the boards at EPF Congress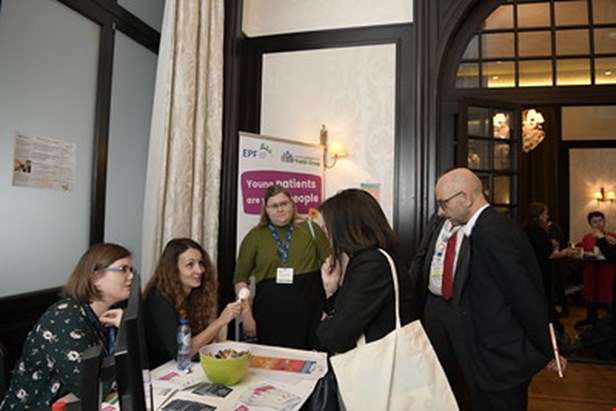 During Congress, the EPF Youth Group was asked to carry out various activities. These activities included managing our own booth and acting out several roleplays both during plenary and parallel sessions. Many Congress attendees visited our booth and were interested to learn about the activities carried out by the Youth Group in 2019 and 2020. Participants were informed as to what the Group is up to and its importance as the voice for young patients.
As a Group, we made up two games for attendees to play at our booth. In the first game, we asked each player to match a list of chronic conditions to photographs of various Youth Group members and EPF staff on a chart. The purpose of this game was to highlight the fact that it can be difficult to tell if someone has a chronic condition just by looking at them. For the second game, we give players six spoons and told them to assign a spoon to typical daily activities such as getting out of bed, getting dressed eating and working. However, there were not enough spoons available to carry out every activity. This game was to show how many people with chronic conditions may not always have the resources to carry out the same everyday tasks as other members of the population. As a Group, we felt that everyone who had visited the booth had left with a positive impression of us and how we can contribute to EPF.
The Youth Group also acted out roleplays on stage displaying various scenarios in which a patient was being discriminated and neglected against. For each roleplay we acted out both a negative and positive ending to the situation/scenario. We believed this to be important as it gave the audience a glimpse into the daily life of a patient and how an incident of discrimination or ill treatment can impact on them. In conclusion, EPF Congress has shown to us how important it is to have a voice for all young patients within the wider patient movement."
For more information about the roleplays please contact Borislava Ananieva, EPF Youth Group President youthgroup@eu-patient.eu