EUPATI launched its first training on patient engagement to professionals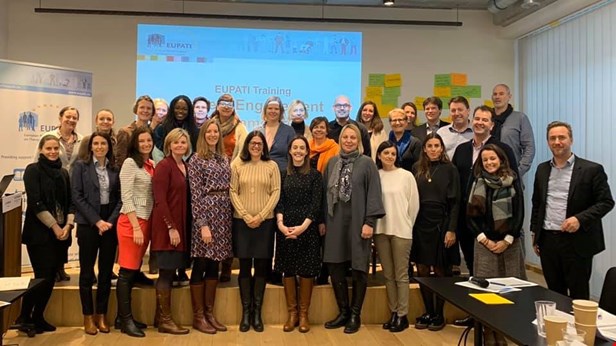 Following on from its established success in patient education, the Patients' Academy has launched EUPATI Fundamentals: a one-day training course on patient engagement for professionals working in academia and the pharmaceutical industry, to ensure the accelerated uptake of effective patient engagement, and good partners for the patient community to work with.
This training on patient engagement is necessary to address the gap preventing effective patient engagement in different sectors. It is also based on the belief that patient engagement does not only begin only with research, but by co-creating and co-delivering with patient experts. There is no standardised training for professionals working in patient relations and engagement leading to too much on the job learning, diverse approaches and lack of knowledge transfer both institutional and experiential. Plus, this is compounded by a lack of continuous professional development (CPD) for professionals in this field in order to advance their careers and improve their work practices and processes. In addressing this EUPATI will ensure that in the future both patients and professionals have fruitful engagement that meets the expectations of all parties.
The first training took place on 21 November in Brussels with 31 participants coming from academia and pharmaceutical industries. The agenda of the training covered the principles of patient engagement, the quality criteria, setting up a patient engagement framework, and other theoretical and practical information to enable professionals to turn patient engagement into a reality.
The next EUPATI Fundamentals will take place on 11 February 2020 in Brussels. For more information, take a look here.
For more information, click here or contact training@eupati.eu.