European Kidney Forum 2019 – Event report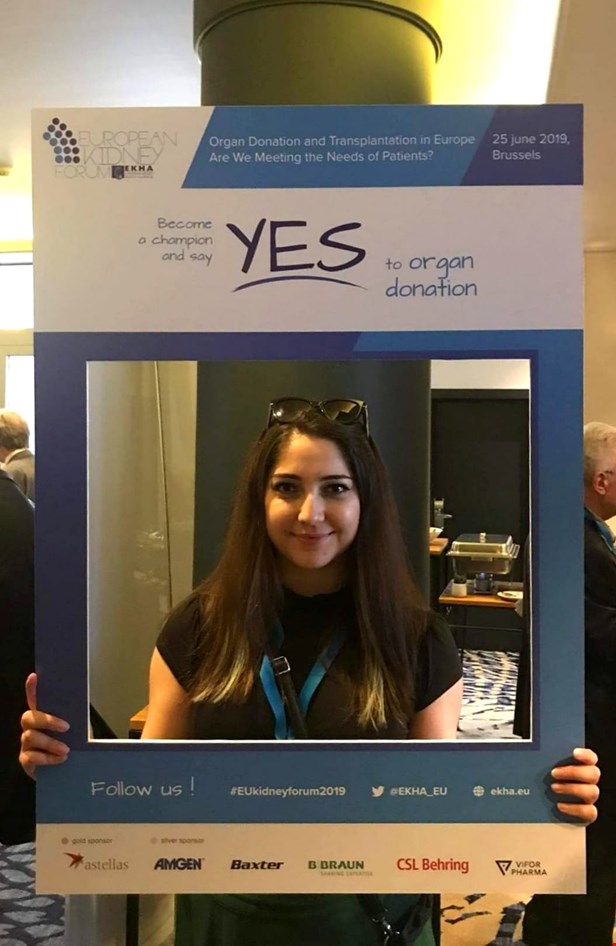 Event report by Youth Group representative Borislava Ananieva
On 25 June 2019, in Brussels, Belgium the European Kidney Health Alliance (EKHA) conducted their European Kidney Forum Policy Roundtable on Organ Donation and Transplantation in Europe with the theme "Are we meeting the needs of patients?". The event saw representatives from largescale pharma companies, NGOs, industry, hospitals, transplantation centers, universities, the EU Commission, doctor committees, national executive agencies and many more. I attended this event as EPF trainee, Youth Group member and also a two-time kidney transplanted patient, with the aim of bringing the young patient perspective to the discussions.
The patients' perspective was presented by Mr. Robert van der Wolk. We also got to hear the transplant professionals' perspective from Gabriel C. Oniscu from the European Society of Organ Transplantation. It was also very inspiring to hear about best practices from Stela Živčić-Ćosić from the University of Rijeka, Croatia and Elisabeth Coll, Medical Director of the National Transplant Organisation in Spain. The subject of the organ availability and improving the efficiency and accessibility of transplant systems was tackled by Mr. Uwe Heemann from the department of nephrology of the Technische Universität München .
As discussed in the panel discussion there is still room for improvement for all EU Member States. Keen on pushing this much needed improvement, the European Kidney Health Alliance will release a "Joint Statement on Organ Donation and Transplantation" at the beginning of October 2019, which will then be submitted to the European Commission. One of the aims of the statement is ensuring that the topic of organ donation and transplantation remains an EU political priority. Sharing examples of best practices, reflecting on issues that are a priority to different communities and highlighting the political call for action will be essential in the success of the Joint Statement.
Overall this was a highly interesting and informative event in which it was clear that there are many aspects involved for the patient, from dialysis or struggling with kidney failure to living a fulfilling life after transplantation. If even one of those aspects is not working in the right waym the whole system will fail and patients are left with few other options.
I feel more motivated than ever to do everything I can as a young patient advocate to help people who are struggling the way I did before. It felt good to see many other people passionate about this topic and trying to help!

Thank you for the opportunity to get involved. If you have more questions about this or other activities the Youth Group have been attending do not hesitate to get in touch: youthgroup@eu-patient.eu!