Apply now for Duchenne Patient Academy 2020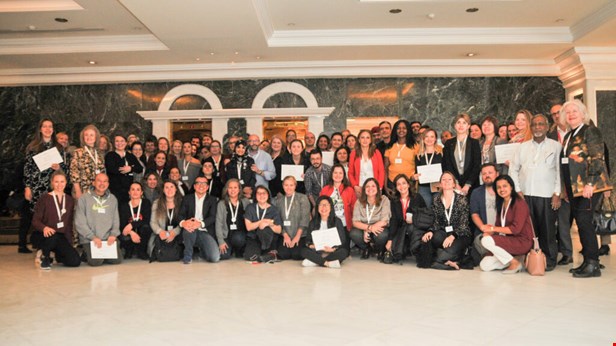 Duchenne Patient Academy works in partnership with leading DMD patient organisations to set a strong patient advocacy base for patient organisations and the Duchenne and Becker community at large. We do this through connecting leading experts in their fields in a week-long intensive training and capacity building programme. By connecting the DMD/BMD world, we aim to contribute a unified and strong voice to coordinate the global advocacy strategy of the community.
The full agenda will be published soon. In the meantime, key topics you can expect to be discussed are:
Grassroots fundraising and impact investment
How to prepare for clinical trials in your country
An introduction to clinical trial research and development
Including the patient voice in regulatory decision-making processes
How to coordinate global policy
Advancing a Patient Organisation to the next level
Improving the family's position in data collection
How to engage and create a community for young people with NMD
Research and care update
DMD clinical trials and COVID impact
Who should attend?
Duchenne Patient Academy is open to DMD/BMD patient advocates, with selected days open to all NMD patient advocates who might be interested. It will be of particular interest to the following groups: individuals affected by DMD/BMD, patient organisations, researchers and clinicians. Patient advocates do not have to be connected to patient organisations. Attendees have the opportunity to participate in networking opportunities and various parallel sessions according to their preferences.
Patient organisations from other neuromuscular conditions such as Spinal Muscular Atrophy (SMA), Limb-Girdle Muscular Dystrophy (LGMD), Facioscapulohumeral Muscular Dystrophy (FSHD) or NMD umbrella organisations are invited to join selected days of the programme. Please indicate the condition you are affected with or represent in the application procedure.
Application procedure
Those interested can complete the application form. The deadline for submitting applications is November 13.
About Duchenne Patient Academy
Connecting over 80 patient advocates from 37 countries throughout the world, the 2019 edition of Duchenne Patient Academy can be seen as one of the leading global Duchenne and Becker MD events. The DPA educational training aims to equip patient advocates with the tools, knowledge and experience to better represent and serve Duchenne and Becker muscular dystrophy in terms of research, care, policy-making, regulations and awareness.