EPF's recommendations on the eu4health programme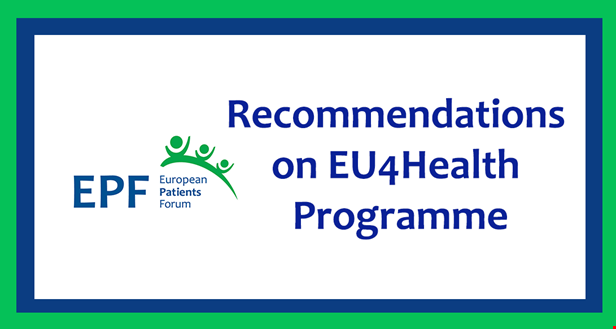 The new EU4Health programme represents a unique opportunity to build stronger, patient-centred, health systems that can provide care to all, under all circumstances and beyond the COVID-19 crisis.
Thanks to the already supported work of the several Rapporteurs involved in the agreed and voted Compromise Amendments, EPF believes the current version of the EU4Health Programme Report strongly improves the Commission's proposal.
We wholeheartedly agree with the focus of placing more attention on the importance of adequate resources, offering a stronger role for patient organisations and civil society through an inclusive EU4Health Steering Group, as well as accessible and affordable person-centred care and better integration within health systems.
Ahead of the upcoming plenary vote on 12 November and trilogue negotiations, EPF would like to further stress the importance of the following elements included in the current version of the Report:
Solid and inclusive governance with direct participation of patient organisations and civil society
More investment in health
Accessible and affordable care for all
European coordination to protect our health
Inclusive and safe digital transformation of health and care
EPF believes that the inclusion of these elements in the final negotiating position of the European Parliament will lead to positive negotiations for a fit-for-future EU4Health programme, ready to strengthen existing health systems, while efficiently addressing the needs of European patients.
You can see our Full Recommendations below.