EPF Support at the Young Coalition for Prevention and Vaccination Manifesto Launch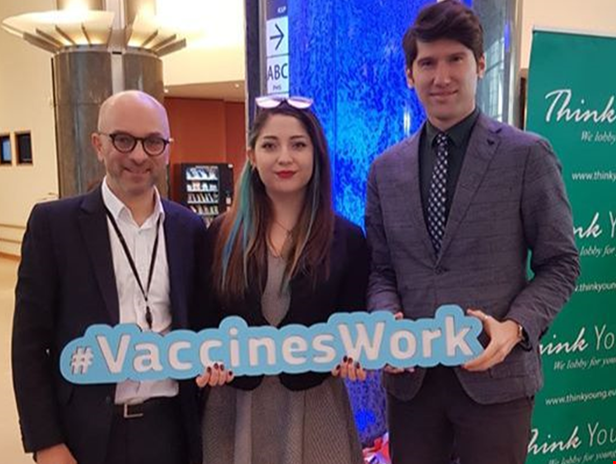 The launch of the Young Coalition for Vaccination and Prevention Manifesto: Let's step up for Vaccination, was held on 21 January at the European Parliament, in Brussels. As partners of the Coalition, EPF attended the launch representing the patient perspective with Executive Director Dr Usman Khan as a key speaker at the event, and other staff members. MEP Brando Benifei (S&D) and Isabel de la Mata, Principal Adviser for Health and Crisis Management at the European Commission hosted the event and officially launched the Manifesto.
This very much needed document focuses on recommendations on how to improve the uptake of vaccines and raise awareness about immunization. It consists of three calls for action for the European Commission. Some key points in the calls for action include:
- The need to foster education and improve the learning methods on the importance, safety and value of vaccination.
- Foster the life course approach to vaccination, protecting individuals at all stages of their life.
- Empowering the population and healthcare professionals by utilizing existing digital solutions to facilitate immunization records and their use across borders.
EPF Executive Director Dr Usman Khan underlined the key need to boost health literacy, especially among young people, and to counter misinformation and vaccine hesitancy: we should focus on the vaccine hesitant people and provide them with reliable, scientific-based information in lay language so they can make a well-informed decision about the future and well-being of their family and society. Indeed we welcome that many of the action points of the YC4PV manifesto fully align with our own Manifesto on the importance of vaccination for patients with chronic conditions.
One thing is certain: vaccination is seen as one of the most cost-effective ways to prevent disease and active engagement of the younger generation can make a huge difference.
You can find the full YC4PV Manifesto here: https://www.thinkyoung.eu/yc4pv
#YC4PV #YC4PVManifesto #VaccinesWork