The EU Cancer Plan will be meaningful and fully patient-centric, says EU Commissioner Stella Kyriakides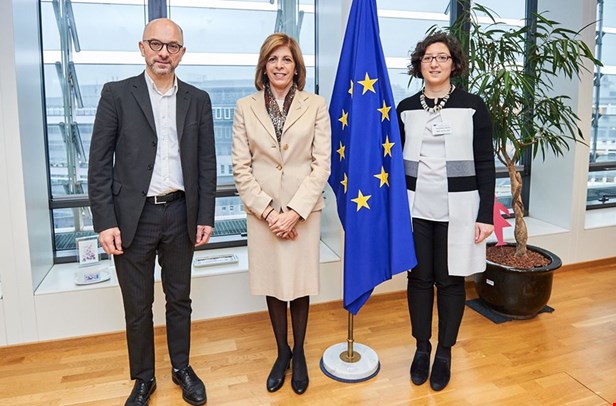 On 7 January EPF met with the new Commissioner for Health and Food Safety Stella Kyriakides. The Commissioner, who invited EPF for a meeting around the theme of the forthcoming EU Cancer Plan, we are pleased with the outcome of this productive meeting, which we hope will be the start of a long-term fruitful collaboration with the Commission and other health and patient organisations.
With the central focus of the meeting being the upcoming new EU Cancer Plan EPF welcomed the Commissioner's commitment to working towards a fully patient-centric plan, with benefits for other patient groups potentially being an option.
EPF also welcomed her focus on looking at country level activities as a priority, in order to address current gaps in patient empowerment and involvement.
A public consultation on the plan will be launched on 4 February 2020 at the European Parliament, at a meeting in the occasion of World Cancer Day – the consultation will be open to all stakeholders, as there is a general belief and recognition that the plan could affect many sectors (ie. environment, social care, etc.). The multi-stakeholder nature of the initiative is key to making it all the more meaningful. For instance, the plan should have additional cross cutting impact, such as access to affordable medicines.
We are committed to working with the Commissioner's team and our network of members and partners to ensure the EU Cancer Plan is informed by meaningful patient involvement. Naturally we will follow up with the Commission to ensure she considers patients' priorities in other relevant policy areas entrusted to her in her mission letter.
We look forward to sharing the upcoming consultation with our members: watch this space for more information!