[Youth Group] IFSBH Event on Sexuality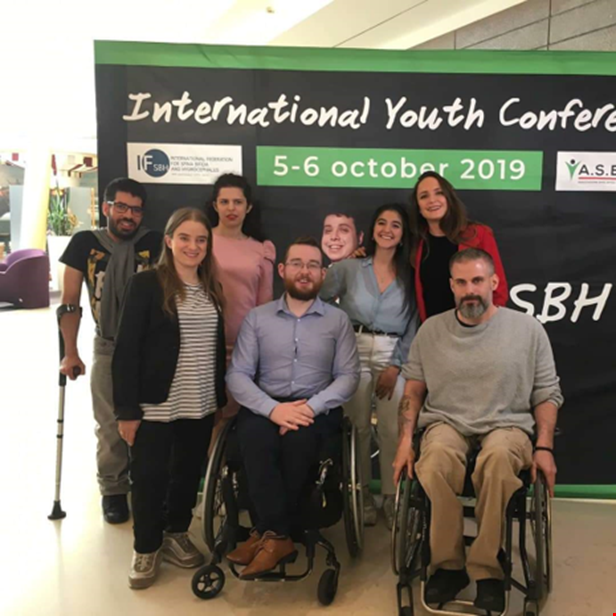 Blog by Marcus Ward
From 5-6 October 2019 I travelled to Varese in Italy to attend a youth conference on sexuality for people with spina bifida and hydrocephalus. The conference was organised by the IFSBH (the International Federation for Spina Bifida and Hydrocephalus) and ASBI (the Italian Spina Bifida Association), along with the IFSBH Youth Group, of which I am a member.
There were also many interesting speakers on the opening day, including Doctor Sara Grosso, a specialist in gynaecology and obstetrics, and clinical sexologist Doctor Marco Rossi, specialist in psychiatry. I learnt a lot about how spina bifida can affect the sex lives of people living with spina bifida, both in the physical and in the psychological sense. I also learnt about the medical advances that have been made to help improve the issue of sexuality for people with spina bifida.
To conclude the opening day, I and the other members of the Youth Group made a presentation on the sexuality survey that we carried out last year. Our presentation got a great response and many audience members were impressed by the work that we had put into the project.
On the second day of the conference, we were given the opportunity to ask questions to a panel of doctors, clinicians, psychologists and gynaecologists. This was a chance for the audience to raise any doubts or issues that we had.
Lastly, to close the conference we had a very interesting talk given by Doctor Fabrizio Quattrini about the role of sexual assistants in the lives of people with disabilities. This turned out to be a rather controversial topic for the audience and many people had different opinions on the issue. This was the first time I had come across the topic at a conference and it made me think about the pros and cons of a sexual assistance service, and also the morality of the issue.
Overall I must say that this was an excellent conference. I was very impressed by many of the speakers over the weekend and ASBI made fantastic effort to make sure that everyone gained as much from the conference as possible. I am thrilled to see patient organisations finally dealing with the taboo topic of sexuality and disability. Congratulations to ASBI for organising such an informative and interesting weekend.