EPF Congress Q&A with Terje Peetso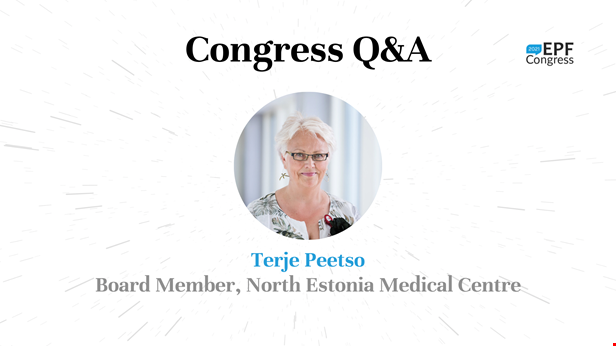 We sat down with Terje Peetso, Board Member of the North Estonia Medical Centre to talk about her role on the Congress Advisory Committee and learn about the challenges and opportunities in digital health systems today in Europe. You can watch the full interview in the link below.
What attracted you to join the Advisory Committee for the EPF Congress 2021?
It was the possibility to contribute to the organisation of the important annual EU health conference.
What role can digital health play in improving collaboration between patients and healthcare professionals?
It has a crucial role and it is only growing and has demonstrated its importance very well also during the COVID-19 pandemic. Digital tools may sometimes be the only option for establishing connection and supporting collaboration. Access to health information and personal health data creates trust and supports patient engagement in decision making and managing people's health as well as acute and chronic conditions. Today, there are many remote monitoring tools available that can contribute to faster and more precise diagnosis and efficient treatment process, thus, improving health outcomes. Making patient reported outcome measures part of health record will give much better and precise overview of treatment progress.
COVID-19 accelerated the digitalisation of health and care and offered a sneak peek of how digital health can positively impact life of millions of patients. Based on the pandemic, what can we learn going forward to ensure our health systems are ready to fully embrace digital health?
Digital tools have well demonstrated their importance in COVID -19 pandemic as some other means just did not work as usual. Digital/Video consultations, distance monitoring, e-prescriptions – healthcare systems that had these tools already in place certainly benefitted from it while others learned the lesson. Of course, it can get better, but we have made a good start and have by now tested it long (already before COVID-19) and well. Digitization is happening anyway, we just have to take the best out of it by engaging end-users from the beginning (both patients and healthcare professionals), addressing as well security and data protection issues, sharing good practices and learn from others, improve digital health (literacy) and we will succeed.
How can patients harness digital health to safely and efficiently access care across-borders?
Digital health offers very good opportunities already now, e.g. European Reference Networks give an opportunity for people with rare and complex disease to have an access to top level experience and knowledge for quicker diagnosis and better treatment options. Hopefully in the near future we will have a possibility to get our prescription medicines in any of the Member States and in case we will need medical help, doctors will have an access to my EHR.
Why should people attend our virtual Congress 2021 on the digital transformation of healthcare?
I think it's a great opportunity to learn from other people's experiences, ask good questions and get good answers, participate in discussions and network in the digital world. In addition, having all the above, still enjoy staying at home.