#EPFCongress 2021 Q&A with co-host Ivett Jakab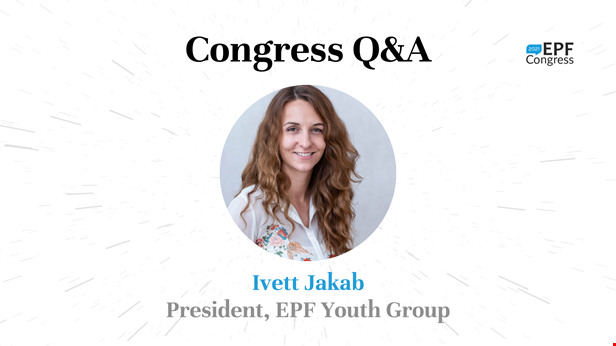 Ivett Jakab will be one of the co-hosts for the #EPFCongress2021. She sat down with us too discuss how health systems can embrace #digitaltransformation, the role of young patients and his hopes for the EPF Congress 2021. Ivett is the President of the EPF Youth Group.
What attracted you to become co-host for the EPF Congress 2021?
My main motivation in accepting the honourable role of co-hosting the event was to put the EPF Youth Group to the spotlight, and show that we need to do more on acknowledging and serving diversity withing patient groups. Adolescents and young adults are one of the most vulnerable age groups when it comes to mental health and health behaviors, yet concerning digital health we are often thought of as either children or adults, but not as a special group of patients with special needs. If this can happen to the most obviously tech-savvy subgroup of patients, I cannot imagine the abundance of voices and perspectives we are missing from the table.
COVID-19 accelerated the digitalisation of health and care and offered a sneak peek of how digital health can positively impact life of millions of patients. Based on the pandemic, what can we learn going forward to ensure our health systems are ready to fully embrace digital health?
We have to trust in the abilities of people for learning new things. We had the technology ready already, yet often the belief that people won't use it was a barrier, and this barrier was conquered by the pandemic and the need of using these technologies. We shall not forget that people, healthcare professionals, patients can adapt if we offer them a real solution for a problem relevant for them.
In your opinion, what should be the role of patients in the digitalisation of our healthcare systems?
Patients should have a proactive role in sharing their needs, brainstorming on solutions, co-designing, and testing digital health technologies, because a new tool will only worth as much as people actually use it.
Why should people attend our virtual Congress 2021 on the digital transformation of healthcare?
Because patient empowerment and 'digital' are the two biggest – often colliding - transforming forces of healthcare today, and this is where the two worlds meet! Even more importantly, you can meet and have a chat with members of the EPF Youth Group, and we are not only insightful on how to engage young patients, but also fun to be around.
Watch her speak: