#EPFCongress2021 Q&A with co-host Tjasa Zajc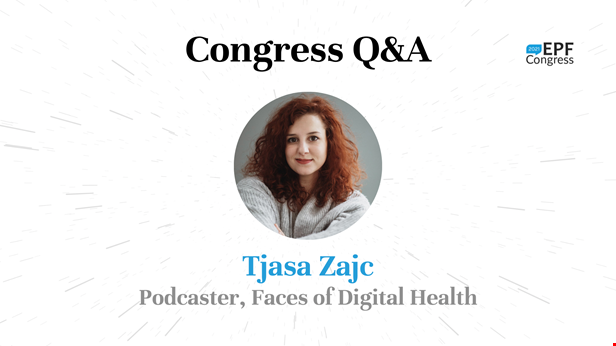 Tjasa Zajc will be one of the co-hosts for the #EPFCongress2021. We sit down with her to discuss how health systems can embrace digital transformation, the role of patients and her hopes for the Congress.
Tjasa Zajc is an international healthcare journalist, speaker, and moderator with a passion for digital health, who regularly explores how different cultures and people alike, approach the complexities of healthcare around the world through the podcast Faces of Digital Health.
What attracted you to become co-host for the EPF Congress 2021?
The EPF Congress 2021 Programme offers a comprehensive update on the latest in digital health and has an emphasis on the patient perspective. I think any healthcare leader will benefit from participating in the conference and I feel privileged to be able to co-host the event.
COVID-19 accelerated the digitalisation of health and care and offered a sneak peek of how digital health can positively impact life of millions of patients. Based on the pandemic, what can we learn going forward to ensure our health systems are ready to fully embrace digital health?
We can learn that access to healthcare can improve with technology when there's a will for healthcare providers and patients to use them, and very importantly, for users to pay for these solutions accordingly. This should be the primary acknowledgment most and foremost for policymakers and users of healthcare services, so they would design systemic changes for healthcare optimization.
The pandemic has also shown that in crisis, access to healthcare worsens for "non-urgent" cases and we are yet to see the consequences of indirect patient harm and deaths caused by the pandemic. This is what we should improve in the future, also with the help of technologies that enable from easy (using video, phone calls) to complex (using remote home diagnostic and monitoring devices) telemedicine.
In your opinion, what should be the role of patients in the digitalisation of our healthcare systems?
Patients can have a huge impact on healthcare innovation. Many chronic patients, parents or other relatives chronic patients become entrepreneurs and design digital solutions for easier management of diseases. Applications and new digital devices are a huge part of modern healthcare, where care for an individual's health is driven by convenience not burden. The consequence is not just improved quality of life of an individual, but the positive economic effect - greater productivity of the society as a whole, especially in the world of rising prevalence of chronic conditions.
Having said that, patients could play a more important role in wider decision making, giving feedback to policy strategies to enable more integrated care and easier collaboration among different doctors taking care for the same patient.
Why should people attend our virtual Congress 2021 on the digital transformation of healthcare?
Healthcare exists because of patients. This is a perfect opportunity to gain critical insight into how best to serve them, improve quality of care and ultimately, their lives.
Watch her speak: