EPF's Response to the Commission's Public Consultation on the Cross-Border Healthcare Directive – Evaluating Patients' Rights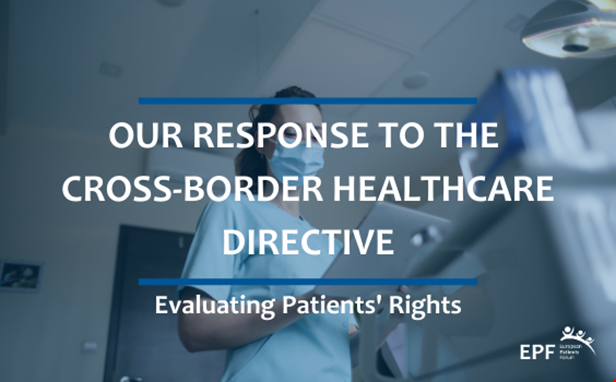 The European Patients' Forum (EPF) has worked extensively on the Cross-border healthcare Directive (2011/24/EU). Building on our previous work in this topic, we have engaged on the recent public consultation on the evaluation of this Directive by the European Commission.
Our response has identified the following priorities:
Patients' rights: patients have a right to timely and affordable, high-quality care, information, and empowerment. The original purpose of the directive was to clarify patients' legal rights. For a right to be meaningful, people need to know they have it, and be able to exercise it in practice.
Information for patients: information for patients should be re-evaluated. Particularly, clear information about patients' entitlements, even within the domestic healthcare system, was a gap identified by our members. When it comes to receiving treatment abroad, financial implications of the choices available are quite important to know in advance.
Equity of access: all patients should have the right to timely, safe, high-quality healthcare based on need rather than means, regardless of where they live, in accordance with the fundamental EU values of solidarity, equity and universality. While the Directive has led to progress in important areas such as eHealth, HTA and ERNs, it has yet to fulfil the main expectation of patients – namely to ensure access to treatment abroad when necessary. There remain unacceptable inequities between patients from poorer and wealthier countries.
Patients' involvement in assessing the Directive: EPF calls for the involvement of patient organisations in assessing the Directive. The Commission should engage with patient organisations from several disease-areas, including rare diseases, cancer, but also others where access barriers exist, and patients would benefit from being able to have cross-border treatment.
For EPF's full recommendations please refer to our position statement, attached and available here.