EUPATI launches its new Open Classroom e-learning platform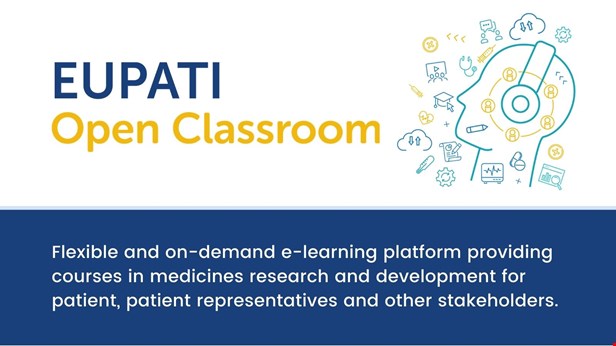 EUPATI, the European Patients' Academy on Therapeutic Innovation, has launched a new online, on-demand e-learning platform. Open Classroom is aimed at patients, patient representatives, and other stakeholders from anywhere in the world who want to deepen their knowledge in medicines research and development.
The e-learning platform, now available at this link, is comprised of Modules, focused on four different topics: Getting started, Introductions to Medicines R&D, Pre-Clinical Development and Clinical Development, with two more Topics to be added by May 2021: Regulatory affairs and HTA.
Each Topic contains several 'Courses' (Training Units) which a learner can complete online and earn a certificate (Each course costs 8 EUR). You can become a EUPATI Fellow by completing all online courses in the programme. The total cost is estimated to be EUR 232 (incl. VAT) to complete 29 courses.
Graduates of the programme will be able to act as a EUPATI Patient Expert and be involved in medicines research, regulatory deliberations, development of therapeutic innovations and other patient engagement initiatives.
The content of the EUPATI Patient Expert Programme has been developed following the Patient Engagement Roadmap, a process model that provides guidance for patient involvement in the different areas of the medicines R&D process. To date, more than 150 patient experts have graduated throughout three (3) cohorts since 2014 and 60 more participants are graduating in March 2021. The EUPATI Fellows have acquired skills and knowledge to make meaningful, active contributions in high level processes of patient engagement in medicines research and development.