GlobalSkin joins EPF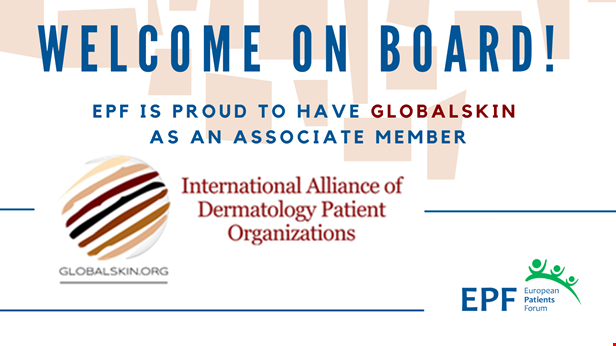 GlobalSkin became an Associate Member of EPF in April 2021. We sat down with them to discuss their mission and vision and what they will bring to the EPF community!
What is the mission of GlobalSkin?
The International Alliance of Dermatology Patient Organizations, also known as GlobalSkin – is a unique global alliance, with more than 180 patient association members ─ located in 60+ countries representing more than 65 disease areas ─ working to improve the lives of those affected by dermatological conditions throughout the world through research, advocacy and support activities. GlobalSkin's mission is to lead a global movement for people living with dermatological conditions by: uniting patient voices, empowering patient organizations, stimulating research, influencing decision makers, collaborating with communities of interest.
We nurture relationships with members, partners and stakeholders building dialogue with decision-makers around the globe to promote patient-centric healthcare. Our Members do incredible work supporting skin patients around the world and we are proud to support them through organizational capacity building, micro-funding grants, education and networking opportunities.
What is the history of the organisation?
In June 2015, the first International Dermatology Patient Organizations Conference was held in Vancouver, Canada, in conjunction with the World Congress of Dermatology in Vancouver, Canada. Attended by 125 delegates from 25 countries, representing 60 skin patient organizations, those assembled unanimously agreed to the establishment of a global umbrella organization to serve the needs of people living with dermatological conditions. The newly formed organization was created to support the work of member organizations and engage in advocacy and awareness-raising globally on the very real but underestimated impact of skin diseases and issues of poor access to care treatment.
The Vancouver Resolution codified this decision and was released to the media on October 10, 2015 at the European Academy of Dermatology and Venereology Congress held in Copenhagen, Denmark, bringing attention to the importance of the work of patient associations and to the formation of this new organization, the International Alliance of Dermatology Patient
Organizations (also known as GlobalSkin).
What is the achievement you are mostly proud of in your advocacy work?
During the formation of GlobalSkin, dermatology patient organizations identified a common need for validated, quantitative patient-perspective data to use in their evidence-based advocacy (including with Health Technology Assessment bodies). It was decided that this should be a priority for the new organization which led to the creation of the Global Research on the Impact of Dermatological Diseases (GRIDD) project.
GRIDD will provide a unique opportunity to integrate dermatology impact data derived directly from patients who suffer from a large spectrum of diseases, making it the first comprehensive patient impact project in the history of dermatology. It will serve to dispel common myths about dermatological diseases. GRIDD will empower dermatology patients by providing a means for their voices to be heard and contribute directly to the design of a world-first patient impact measure (PRIDD – Patient-Reported Impact of Dermatological Diseases) for dermatology diseases that validates their need for improved care, better treatment options and more affordable medicines. PRIDD will be used to help advocate for needed change and will offer the world new perspectives on the lives of millions of people who suffer from dermatological diseases. And GlobalSkin will proudly share the ground-breaking methodology its created (to develop this patient-perspective measure) with other patient organizations that want to develop their own
patient-perspective measure for their therapeutic area.
More details on GRIDD: www.globalskin.org/research.
What is the biggest misconception about your disease?
Worldwide, there is a general (mis)perception that skin diseases are inconsequential, fleeting and a nuisance — rather than diseases that truly warrant attention from the medical and research communities as well as funding and support from payers and legislators. There are over two billion people living with approximately 3,000 dermatological conditions
globally.
People living with dermatological conditions face stigma, shame and other psychosocial challenges in addition to the physical symptoms of their disease. For many patients, this is a lifelong burden. And in many cultures, this can have devastating social impacts. This must change.
What is your biggest challenge for 2021? And the biggest hope?
The COVID-19 pandemic has created significant challenges for dermatology patients around the world and the patient organizations and health care professions that support them. GlobalSkin recognized the need and commitment of key stakeholders to come together and explore the
challenges and opportunities by organizing two virtual multi-stakeholder roundtable meetings in December 2020 and February 2021. The group identified real and tangible opportunities for the dermatology community which we are now working on to leverage at a strategic level:
More engaged patients
Increased understanding of science, immunology, vulnerable patients
Proven and unprecedented ability to accelerate innovation
WHO agenda focused on immunology
Patients are sharing data (which can help shed a light on the burden of disease)
Digitalization – image quality is a concern but artificial intelligence and machine learning could help
What will you bring to the EPF Community? What would your organisation like to contribute?
GlobalSkin's leadership believes that working together as a collective creates momentum and leads to change. With more than 90 member organisations based in Europe – located in 2 countries and representing more than 20 dermatological diseases and conditions – GlobalSkin will:
Bring with it a significant number of diseases and European organizations through its EPF membership.
Strengthen the patient voice in Europe through its member community.
Share expertise, experiences and best practices of GlobalSkin and its members, not only on a European basis, but also globally.
Contribute to achieving EPF's strategic objectives and participate in its campaigns and other activities.
In summary, we bring a willingness and collaborative spirit to advocating for improved lives of European patients.
For more information about GlobalSkin, visit their website.