IDF Europe - Position Paper on Vaccination of People living with Diabetes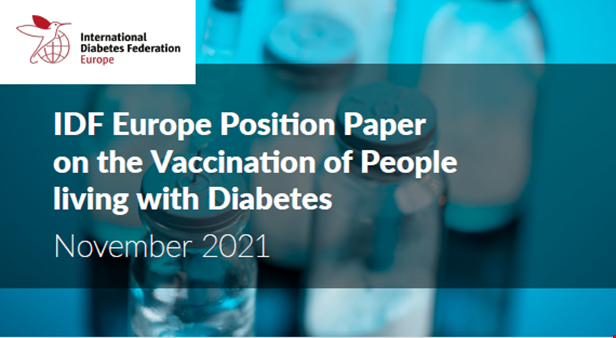 As the vaccination campaign for influenza along with booster shots of COVID-19 has started this winter across Europe, IDF Europe has developed a position paper on vaccination of People living with Diabetes (PwD).
PwD are at a higher risk of severe complications from many vaccine-preventable diseases than the general population. Even when a person's diabetes is well managed, some physiological factors such as inflammation or blood pressure can create an environment in the body that makes it harder for the immune system to effectively fight infections. This report looks into the major vaccinations that are specifically recommended for PwD. A recommendation analysis of the vaccines in Europe is then provided followed by the recent developments and recommendations on the administration of COVID-19 booster shots as well as combined Flu and COVID-19 Vaccination. Finally, we propose policy recommendations to ensure that PwD are fully protected from vaccine-preventable diseases.