World Health Day 2021: Building a fairer, healthier world for everyone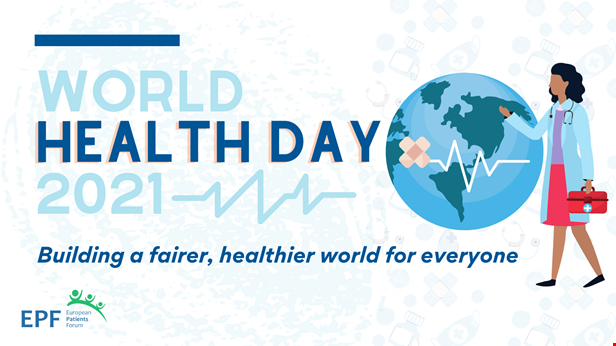 On 7 April 2021, we celebrate World Health Day. From its inception at the First Health Assembly in 1948 and to taking effect in 1950, the celebration has aimed to create awareness of a specific health theme to highlight a priority area of concern for the World Health Organization.
Health is a fundamental human right. Every person deserves to live a healthy life regardless of their age, gender, ethnicity, disability, economic situation or employment. Unfortunately, progress in tackling health disparities has been slow worldwide, including in many countries that are currently experiencing emergencies and conflict.
As COVID-19 has highlighted, some people are able to live healthier lives and have better access to health services than others - entirely due to the conditions in which they are born, grow, live, work and age. All over the world, some groups struggle to make ends meet with little daily income, have poorer housing conditions and education, fewer employment opportunities, experience greater gender inequality, and have little or no access to safe environments, clean water and air, food security and health services. This leads to unnecessary suffering, avoidable illness, and premature death. And it harms our societies and economies.
This World Health Day, we're calling for action to eliminate health inequities, as part of a year-long global campaign to bring people together to build a fairer, healthier world.
On this year's World Health Day, we asked our Members and patient communities what is needed to build a fairer and healthier world. Below, their answers:
COVID-19 crisis has completely unveiled inequalities in many fields, especially regarding access to quality health care services. For a fairer and healthier world, ELPA considers a priority to address the leaders to monitor health disparities and ensure that all people have equal access to the best medical care standard – regardless of origin, lifestyle, and type of disease.
Ideally, where you live in the world should not determine your access to care or your health outcomes. The Global Heart Hub aspires to a world where every patient has equal access to the best care, at the right time" Neil Johnson Director of Development, Global Heart Hub
We want to highlight the benefits of diversity and working together across sectors to learn from each other to ensure access to health services for all. Communities participation and co-creation of solutions to identified issues is key to building a fairer and healthier world.
Female Breast cancer is now the most diagnosed cancer in the world. A fairer and healthier world should aim at joining forces in order to provide all women with population based mammography breast cancer screening programmes as well as multidisciplinary and specialised treatment and care for all disease stages.
Fairer health systems and policies which will ultimately provide universal health coverage for all. Healthcare budgets must increase to ensure the sustainability of healthcare for all. The aim must be to dispel the disparities at global level. As an umbrella patient organization, WFIPP is pursuing these goals.
As the largest European organisation bringing together mental health service providers and users/ex-users of mental health services, we call for a human rights-based response to the pandemic. To build a healthier, fairer world, we must address the underlying systemic problems through an intersectional approach and by prioritising individuals, including those facing mental health difficulties, during and after the COVID-19 crisis.
Awareness about Duchenne is the power! This concerns you, me, everyone!
Dmd Aileleri Derneği (Dmd Families Association)
We need more empathy to defend patients' rights not only by rare patients, but by the whole society.
Arthritis and Rheumatism Association Malta (ARAM)
For the world to be fairer to patients, the principle of EQUITY must be present throughout. Furthermore, there cannot be an equitable approach unless the voice of the patients is central in all decisions taken affecting them.
What is needed is for a commitment to introduce mindfulness training from early childhood through to adulthood so that citizens grow to live mindfully, wisely and peacefully while appreciating the world around them and all its beings, making wise choices based on reflection and understanding, appreciating the blessings of having less cravings for more and more things that do not ultimately make them happy, learning to appreciate difference, and sharing one's blessings with others.