Youth Advocacy during the COVID-19 Pandemic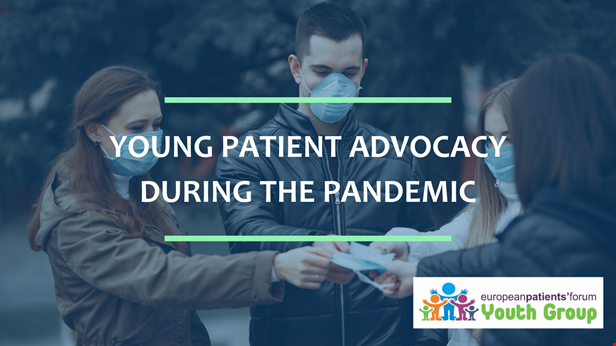 During the current COVID-19 global pandemic, it is fundamental that we, as patient advocates, continue our activism and raise awareness for what is meaningful to us. At times, this has required us to be more creative and think of new and innovative ways to bring our members together. One of the most significant lessons that this year has taught is that we can still have fun together and learn from one another, even at a distance. Let this be a reminder that if something is important to you, you can still raise your "voice" and awareness for it.
Here are some ways the EPF Youth Group has continued its advocacy during the pandemic:
Ivett Jakab
"It took some time and creativity, but we found our ways by: planning an online summer camp for children and teenagers with a big box of surprises arriving through post that we opened in a group call together, organising team building activities with the EPF Youth group and working together even though we have never met with out not-so-new members, learning how to present for 200+ people while all you see is your monitor and you are not even sure they can hear you. It's been a challenge, but there's always been something to constantly stimulate you in lockdown."
Sally Hatton
"Advocacy has been a real help for me during lockdown. All of the different organisations I belong to have worked really hard to provide ways for us to keep connected remotely and new activities so that we can keep talking, planning, and supporting each other and our communities. When I wasn't able to work because of the pandemic it gave me something to concentrate on, make me feel productive, and to get to know other members better."
Erin Davies
"I've missed advocating at events and face-to-face interaction, but remote working has meant that I've been able to engage in a far more diverse range of projects without the requirement for travel. Being in lockdown, I didn't expect to meet so many new people, but I've now got long-distance working relationships with people from around the world and have a far greater understanding of global impact as a result."
Anastasia Semaan
"28 February 2021 is the International Day of Rare Diseases. In pre-Covid times the association that I am the Youth Ambassador of called "Unique Smiles" would always put together multiple events to raise awareness in Cyprus about rare diseases, both in schools and in the public eye. This year's theme is Physical Distancing does NOT mean Social Distancing, and we will be holding a virtual fair whereby children, teenagers and adults can participate in multiple events, including baking sessions, arts and crafts, storytelling and group talks throughout the day. Even though we have all become accustomed to a "virtual world" it is still so important for all of us to take part in physical activities. That is why in addition to our virtual event, we have also joined up with one of our advocates who has has created a virtual run this year. The aim is for everyone and anyone through any form of movement to get outside and "run" (or walk, cycle etc.) for the rare disease community. Since we are not all able to take part in this event together physically, joining forces in a virtual way is how we demonstrate how together we are strong."
We look forward to continuing our advocacy work long after this pandemic ends.