EPF Youth Group's Activities in April 2021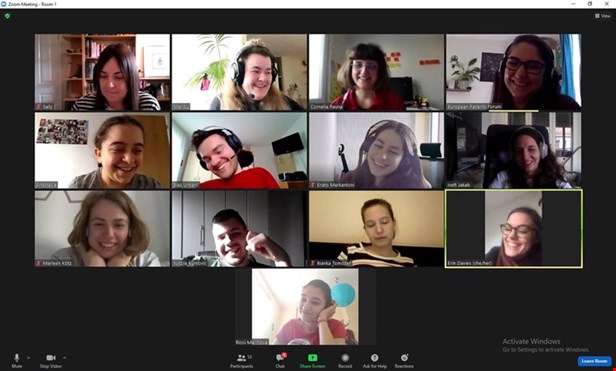 In April 2021, the EPF Youth Group was very busy, partaking in several events that allowed members to engage and provide the young patients' perspective.
Youth Group Spring Meeting
The Youth Group Spring Meeting was held online again this year. The program was divided into two days – on the first day it was spent getting to know each other, and on the second day we 'got down to business'. Since I am one of the new members, I highly appreciated the first day where we had games that helped us learn something about one another. Our intention is not just be a functioning working group, but a community with friends working towards the same goals.
The second day was, of course, time to get into action and thus we started with a presentation of the teams that exist within group, that each have corresponding responsibilities, so that we can either choose a team to join or change to another one. What I found in this youth group is that there is an incredible amount of flexibility and openness. There's nothing more comforting than being part of a group that allows and welcomes what and who you truly are. We are all experiencing a constant change, therefore being able to understand that everyone's priorities may change with time is a great virtue – and I found it here.
Our focus right now is on Sexual Health for young patients for which we have already released a concise survey where we invite them to signal their struggle on the subject. Nothing can ever be changed if we live in ignorance and we can all agree that most topics related to sex are considered taboos in our societies. We wish for young patients to gain self-trust, be comfortable in their shoes and have all the information needed available. What if we talk more about it, so that we make them less taboo and more a reality?
The EPF Annual General Meeting (AGM)
On Saturday, 17th April, the Youth Group attended the EPF Annual General Meeting online. It was an opportunity to gain deeper insight on the achievements of EPF during the last year and witness the election of a new EPF board. We would like to congratulate all of those who ran during the elections, and add a special congratulations to the current EPF President Marco Greco, Vice President Brian West, and Treasurer Radu Costin Ganescu - we are looking forward to witnessing and working with you on supporting and bettering the lives of young patients in Europe. Furthermore, due to our amazing and original EPF Youth Group Representative Jana Popova aging out and having to leave the Youth Group, we needed to elect a new Board Representative. We are very happy to announce that our lovely Erin Davies has been elected during the AGM to represent us on the EPF Board.
We had the opportunity to present our achievements from 2020, and demonstrate our pans for 2021. This included a particular focus on presenting our current Sexual Health and Wellbeing project, reminding the patient organizations in attendance on the importance of awareness of sexual health for young patients. During the meeting itself, we were questioned on the importance of this topic where we reiterated the importance of breaking the taboo that currently exists around sexual health for young patients. EPF member organisations were happy to hear about this new project with great anticipation of the results.
The Patient Engagement Open Forum 2021
Ivett Jakab, on behalf of the EPF Youth Group, had the privilege to give the keynote speech of PEOF 2021, an event organised collaboratively by EPF, the EUPATI Foundation and Patient Focused Medicines Development (PFMD).
The topic of the introductory session was "A Time to Reflect and Move Forward". Our main message was that 2020 has proved that connecting to other people while being apart - which is also a core part of patient engagement activities - is possible, and we need to do all we can to make these interactions meaningful as well. Virtual events have introduced new challenges, but also new levels of inclusivity for patients and caregivers taking part in the discussions. We encourage all stakeholders to keep this renewed inclusivity beyond pandemic times and to mindfully consider all different forms - virtual, face-to-face and hybrid - of engaging with patients in the long run.