COMPAR-EU Final Conference Advocacy Event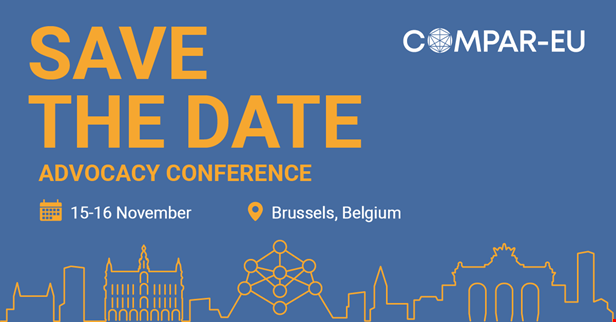 The European Patients' Forum is pleased to announce that it will host the COMPAR-EU Final Conference Advocacy Event, to mark the end of the project.
This advocacy conference marks the culmination of 5 years of interdisciplinary work to identify, compare, and rank the most effective and cost-effective self-management interventions for adults in Europe living with high-priority chronic conditions.
The conference will take place on 15 & 16 November, 2022, in Brussels, Belgium.
The aim is to gather ~70 stakeholders to exchange experiences and expertise on self-management (SM) best practices, share lessons learned from implementation of SM policies, and discuss how to best integrate and incorporate the project's findings across various settings. Other topics, like the Self-Management Europe Initiative, project lay-language materials, and self-management policy implementation practices will also feature in the programme.
The conference will take place in Brussels, and will feature patient representatives from across Europe, EU policy makers, other EU health stakeholder organisations, COMPAR-EU project partners, and national public health representatives.
Access the preliminary agenda here
Interested in participating in the conference? 📩 Get in touch with Lyudmil Ninov at lyudmil.ninov@eu-patient.eu
Register watch the event on Zoom here.
Background
Learn more about the COMPAR-EU project,