Making Meaningful Patient Engagement in Translational Research the New Normal – EATRIS-Plus at PEOF 2022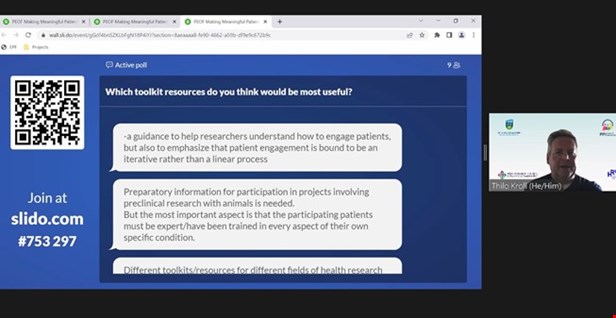 On 14 April, EATRIS and the European Patients' Forum (EPF) co-hosted a session at the Patient Engagement Open Forum. The event aimed at building on important learnings from initiatives like IMI PARADIGM and PFMD, toexplore with patients, funders and researchers how to normalise patient engagement (PE) practices in research, in EATRIS and beyond. It also aimed to present a new toolkit being developed as part of the EATRIS-Plus project.
In the framework of EATRIS-Plus (a Horizon 2020 project), EATRIS and EPF formed a multistakeholder taskforce in February 2022 to develop a toolkit on patient engagement in translational research. The taskforce includes members of the project Patient Advisory Committee, patients and patient organisation representatives, academic researchers, research managers, as well as university patient engagement officers.
The aim of this toolkit, which is due by the end of 2022, is to further incentivise researchers in academia to engage with patients in a meaningful manner and provide academics with more hands-on guidance and resources. The need for such guidance emerged from a series of workshops and webinars organised in 2021 as part of the EATRIS-Plus project, and a recent survey of academic researchers (still open), which highlighted the multiple barriers preventing academic researchers and patients from collaborating.
The PEOF session was an opportunity to earnestly discuss the key challenges and barriers faced by researchers in PE, as well as discuss the potential for the EATRIS-Plus toolkit to support PE efforts. The results of a survey on the barriers experienced by researchers were shared – with 1) identifying the right patients, 2) ensuring the right resources, 3) ensuring PE is meaningful, 4) and building trust, identified as some of the more pressing challenges. The event also featured with a lively panel discussion featuring a diverse group of Scientists, Patient Advocates, and academics, and group polling for the audience. Closing remarks on how to make PE a reality identified 1) embedding PE within research education, 2) enhancing diversity, 3) embedding PE into the research process, 4) capacity building by training patients to engage, and 5) dedicating enough human resources, as key elements.
Watch this space for more updates on the development of the toolkit.
To learn more about our work in EATRIS-Plus, and the value for patients, head to our dedicated project page.