Meaningful involvement of patients in the European Health Data Space is fundamental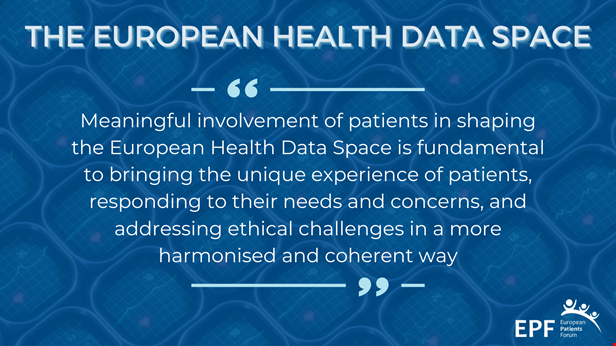 The European Patients Forum (EPF) welcomes the ambitious and timely initiative of the European Commission to set up a European Health Data Space (EHDS). Harnessing the power of the EU health data can help deliver better care and ultimately improve patients' lives, but only if it is shaped and implemented properly with patients at the centre.
The success of the EHDS lies in its ability to reach out to patients and citizens, to be shaped with them, to be accepted by them and to respond to their needs.
EPF calls for a concrete and meaningful involvement of patients in the governance of the European Health Data Space Board, to ensure that patients' needs are fully taken into consideration and that patient safety is ensured at all levels. The participation of patients and patient representatives in the meetings of the governing structure should not be conditional on the topics discussed and their degree of sensitivity. The unique experience that patients can bring is fundamental to contributing to the application of the EHDS and addressing ethical questions in a more harmonised way.
Here you can read EPF's previous work on the EHDS, please see our response to the European Commission's on the European Health Data Space.
For further information or inquiries, please contact us:
Flavia Topan – Communications Manager | flavia.topan@eu-patient.eu