Survey Report on Continuing Professional Education (CPE)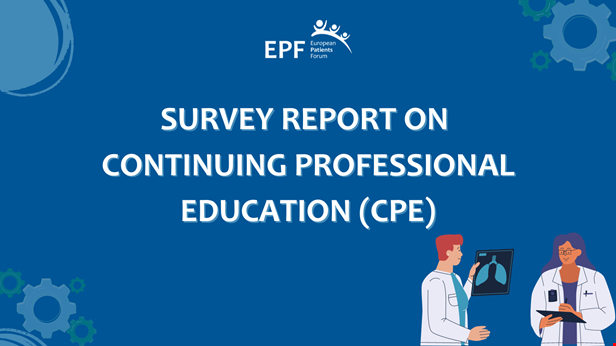 The EPF Secretariat has published its Survey Report on Continuing Professional Education (CPE).
The survey was conducted online from 24 November 2020 to 31 January 2021. It was drafted and distributed by the EPF Secretariat. The surveyed population was approached via e-mail. EPF Members who received the link to the survey were encouraged to further forward it to their members (i.e., individual patients or patient advocates, and/or family members of a patient). Responses were collected and analysed with the assistance of the web-based tool SurveyMonkey.
CPE is a form of continuing education for healthcare professionals (HCPs) that aim to maintain, develop, and increase the knowledge and skills of healthcare professionals. CPE activities may take place in a variety of formats and scenarios, such as live or virtual events/workshops, publications, online programmes, courses, or others. They may happen both in medical and/or in academic settings. The reason for EPF to survey the topic with our membership was to gain insights into their experiences of involvement in CPE activities. Insights generated from the survey will also inform EPF's further advocacy work in this area.
This survey collected 89 responses. These comprise responses submitted by individual patients, patient advocates or family members, and responses on behalf of patient organisations from EPF's membership comprising national coalitions and disease-specific patient organisations. Due to technical reasons, the results do not always specify the respondent's category (more information is given in the "Conclusions" section of the Survey Report). When it was not possible to classify the responses received by category of the respondent, all responses are treated and analysed together.
All questions provided participants with a series of possible answers (sometimes they could choose all options that applied, while other times they could only pick one), and whenever relevant, respondents were given the possibility to add additional input in a free-text form.
The major finding that could be extracted from this survey, is that CPE is very important for all respondents. If used correctly, it is a way of placing patients at the centre of healthcare, as it enables them to share their experiences and expertise with healthcare professionals and healthcare providers who, in turn, need them to better tailor their work to patients' specific needs and expectations. Surveyed patients do value building a relationship with their healthcare professionals as they think that when this happens their needs are met better. Thus, patient involvement in CPE activities should be promoted and invested in as part of healthcare professionals continuing education throughout their careers.
Ultimately, this survey serves as a testimony that, despite inherent shortcomings of current patient participation in CPE activities, such as imbalances in the relationship between patients and HCPs or lack of preparation, there is a willingness to advance patient involvement in CPE activities. Issues relating to funding by industry or universities/medical societies, the design of the participation process and how to encourage patient involvement will require further investigation. The results of this survey will therefore be used by EPF to support the ongoing activities and further develop our work in this area, in consultation with our membership.
To access the full Survey Report, please click here.