A patient-centred vision for Unmet medical needs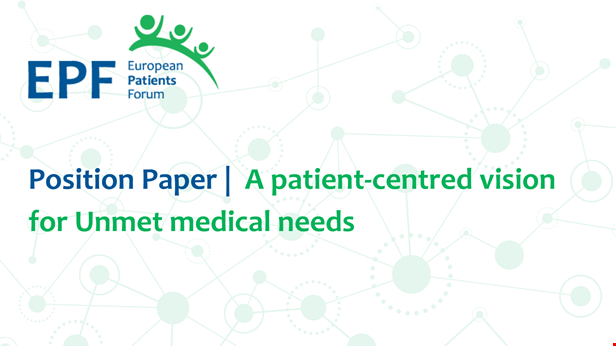 In a defining moment for pharmaceutical regulation in the European Union, Article 83 of the European Commission's proposal for a Directive on medicinal products for human use introduces the pivotal concept of "unmet medical need." This definition carries profound implications that extend beyond research and development (R&D). It shapes pharmaceutical companies' eligibility for regulatory data protection, conditional marketing authorisations, and enhanced regulatory and scientific support. Most notably, it resonates throughout the post-authorisation phase and reverberates in the realm of health technology assessment (HTA). Aligning this definition with the true needs of patients is an overarching imperative.
As the voice of patient organisations in Europe, the European Patients' Forum (EPF) perceives the current Commission's definition as restrictive, offering only a limited scope for genuine health innovation. EPF expresses not just concern but a resounding call for patient involvement in drawing up the definition. Ultimately, the concept of "unmet medical need" should aim to distinguish innovative medicines that provide real and significant added therapeutic value for patients from other new medicines.
In this context, EPF proposes a future framework to characterise "unmet medical need" as part of the revision of EU pharmaceutical legislation. This framework should:
Apply to medicinal products intended to treat, but also medicinal products intended to prevent or diagnose a disease, or to restore, correct or modify physiological functions as per the definition of medicinal products in the EU.
Acknowledge both immediate therapeutic needs perceived by patients that are unmet by current treatments and longer-term societal needs, including the impact on caregivers and potential public health concerns.
Embrace inclusivity, recognising that many chronic diseases, while not life-threatening, substantially burden patients, caregivers, and healthcare systems. It should take into account not only mortality and morbidity but also their broader impact on patients' lives and health-related quality of life.
Assess patients' therapeutic needs based on various criteria, encompassing the impact of the condition on life expectancy, the appropriateness of current standards of care, and patient experience data (PED), including their quality of life and any mental health implications.
In conclusion, the journey to define "unmet medical needs" starts with listening to patients and understanding the profound impact of their conditions and treatments on their lives. Collaboratively shaping legislation and definitions with patients at the heart of the process fosters true health innovation, ensuring that medicinal products are developed and evaluated in ways that genuinely enhance patients' lives.
Read our full position paper here.