EPF position statement EU4Health priorities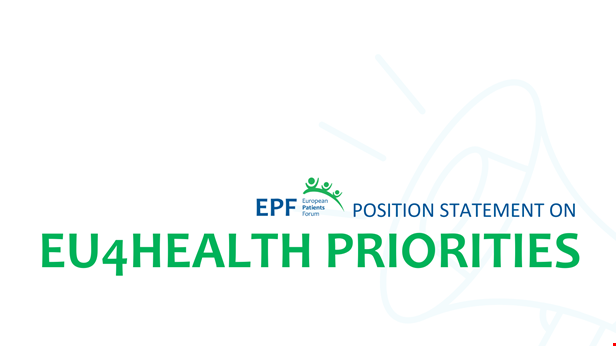 The European Patients' Forum (EPF) calls for a patient-centred EU4Health 2024 work programme, with actions to empower patients in healthcare and foster their participation throughout the five overarching strands to be funded under the 2024 EU4Health Work Programme. Read our three action points.
With an investment of EUR 5.3 billion during 2021-27, the EU4Health programme is a unique opportunity to make a significant contribution to the post-COVID-19 recovery and build stronger, patient-centred health systems that can deliver for all in all circumstances. Synergies between the EU4Health programme and other EU spending programmes are also needed to ensure an integrated approach to health, in particular with social and environmental policies and programmes.
EPF has identified three areas where we would like to see stronger action:
- Sustainable, accessible and transparent funding scheme for patients and civil society organisations
- Capacity-building programmes for patient participation in EU and national health policies
- Substantial investment in health literacy and patient information


Read the entire statement here.