Happy 2023 from EPF President Marco Greco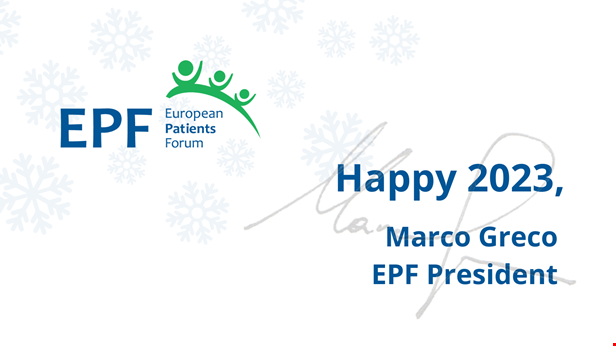 Each new year represents a time of reflection and contemplation, but we have to say that this time around, it is just a bit more special. Read EPF's Marco Greco's New Year's message.
2023 marks the European Patients' Forum's 20th anniversary. Time to shine a light on the milestones we have reached and to admire the strong and diverse community we have built.
Throughout last year alone, we have fostered and encouraged meaningful conversations on the transformation of healthcare. Together, we continuously advanced the patient's perspective and strengthened the patients' role in complex healthcare policy discussions. This is something we are proud of. The work we do together on building our patient involvement flagships is crucial and often life-changing.
What started 20 years ago as a 13-member organisation has become a European umbrella organisation, now gathering 78 members, from across all disease areas. This would not have been possible without your hard work and continuous support. We are so grateful to have you by our side in making our shared vision a reality: a Europe where patient organisations are valued partners in creating equitable, person-centred, accessible, and sustainable healthcare systems, based on patients' unique experiences and expertise.
On behalf of the EPF community, we wish you good health and all the best as you prepare for this year ahead.