EPF's Statement for the European Antibiotic Awareness Day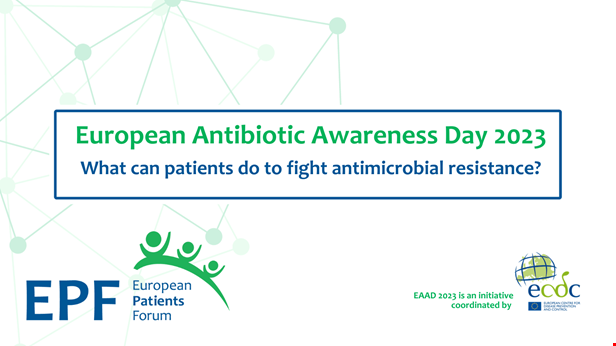 What can patients do to fight antimicrobial resistance?
November 18 marks European Antibiotic Awareness Day (EAAD), an initiative coordinated by the European Centre for Disease Prevention and Control (ECDC) to promote the prudent use of antimicrobials. This day gives us the opportunity to understand why Antimicrobial Resistance (AMR) is such a problem and, more importantly, what patients can do about it.
Why is antimicrobial resistance a problem?
Antimicrobial resistance, defined by the ECDC as "the ability of bacteria to combat the action of one or several antimicrobials", is on the rise and is already responsible for over 35,000 deaths in the European Union (EU), Iceland and Norway – as many as influenza, tuberculosis and HIV/AIDS combined.
A future characterised by increasingly ineffective antibiotics would threaten the foundations of modern medicine, which is heavily dependent on antibiotics, and would put patient safety at great risk.
Patients with chronic diseases are particularly vulnerable to AMR because they have to spend more time in healthcare settings and because many routine healthcare procedures often require the use of antibiotics to prevent or treat infections.
More concretely, AMR would make it difficult to safely perform organ transplants, cancer chemotherapy, intensive care or surgical procedures. Simple infections could become difficult or impossible to treat without effective antibiotics or other antimicrobials, causing long-lasting sickness. Patients' sense of helplessness and impacts on mental health are also an important aspect as antimicrobials prove ineffective. To avoid a world where antibiotics are increasingly ineffective, stewardship and prudent use of antimicrobials are the main means of tackling the issue in a comprehensive way – and this is where patients come in.
The role of patients in the fight against antimicrobial resistance
Patients have a role to play, for example by taking antibiotics exactly as prescribed, avoiding self-medication and not taking antibiotics for infections caused by viruses, such as colds, flu or COVID-19. Good health literacy and patient empowerment can contribute to the fight against AMR, along with increased focus on hand hygiene, proper disposal of medicines, and vaccination.
According to a study published in BMJ Global Health, when looking at 15 different diseases that can develop into resistant infections and for which there are vaccines, researchers found that vaccination could prevent 510,000 deaths at global level and 40,000 deaths at European level 1. However, the link between vaccination and the fight against AMR is not always understood, and awareness of AMR itself could be improved.
Recent data shows that not all patients are aware of the existence of AMR, underlining once again the importance of public awareness campaigns in achieving the Council of the EU's objective of reducing antibiotic consumption in humans by 20% in 2030. In this respect, patient organisations play a crucial role in improving health literacy and act as multipliers in public awareness campaigns.
European Patients' Forum's (EPF) commitment
With its 79 members representing the interests of patients with chronic diseases, EPF is the voice of those who are directly threatened by AMR.
EPF is a committed player in the field of AMR and is stepping up its efforts through awareness-raising, collaboration, and advocacy activities. We want to:
Raise awareness of the specific risks and challenges faced by chronic disease patients
Explore ways to engage the patient community at EU and global level to ensure a comprehensive approach to AMR – in line with the "One Health" approach, which encourages integrated cooperation to tackle the various dimensions of AMR (humans, animals, and the environment).
Promote prudent use and discuss ways to support research and development of new antimicrobials, with a key focus on making sure that existing antimicrobials remain effective but that patient also have access to potentially life-saving new products if they need it.
For more information
1. Kim C, Holm M, Frost I, et al. Global and regional burden of attributable and associated bacterial antimicrobial resistance avertable by vaccination: modelling study. BMJ Glob Health 2023