EPF Congress 2019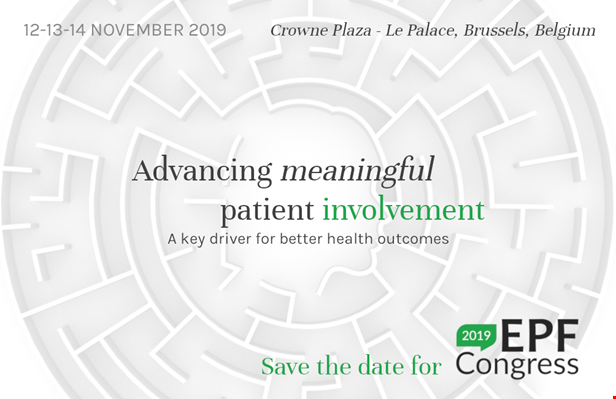 On 12-14 November 2019 the European Patient's Forum will hold the first ever European Congress on patient involvement.
This event will be driven by leading representatives of the patient community, and patient experts, in the capital of the European Union.
The event will also provide an exceptional opportunity for dialogue, engagement with a wide range of health players who aspire to make patient involvement a reality.
This Congress is aimed at exchanging ideas and good practices in patient empowerment and involvement, moving forward on the much-needed policy commitments in this area, gaining a greater and genuine understanding of the wealth of expertise that patients bring to health systems' design and strengthening, and much more!
Registration is open! Stay tuned for programme details, speakers updates and other highlights by subscribing to the Congress newsletter, and follow the hashtag #EPFCongress19 on Facebook and Twitter!
The EPF team looks forward to receiving your registration!