EPF Conference: How Patients' and Families' Involvement can improve Patient Safety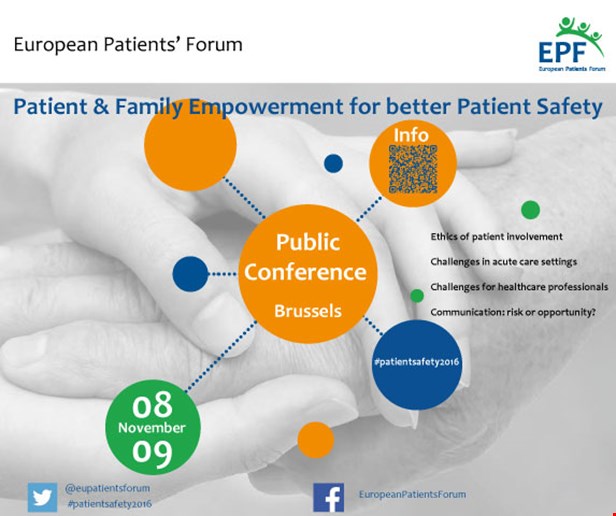 On the 08th and 09th of November, EPF organises a 2-day conference on patient safety, in Brussels. The event aims at exploring how the involvement of patients and their families could improve the current staggering figures of patient safety and health-related adverse events.
Despite being a fundamental right for every patient, patient safety still remains an area facing many challenges and where significant improvement is needed. Health-care related adverse events occur in around 8-12% of hospitalisations, and a 2006 Eurobarometer survey showed that 23% of respondents had been directly affected by medical error, 18% had experienced a serious error in a hospital, and 11% had been prescribed the wrong medication.
Could patient and family empowerment help improve these figures? To ensure care services are designed around patients' needs, patient involvement is necessary at all levels in the system.
Under the title 'Patient and family empowerment for better patient safety', the conference will provide a platform for discussion around the following issues:
The ethics of patient involvement in safety: taking responsibility or being burdened with responsibility?
Challenges for patient empowerment and involvement in acute care settings
Challenges for healthcare professionals: is a fundamental culture change needed?
Communication: a risk factor or an opportunity to improve safety?
Speakers and participants from a wide range of backgrounds will contribute to the debate with their different approaches. Patients, family members, healthcare professionals, researchers, and policymakers are all invited to attend.
The outcomes of this conference will form the basis for the development of a set of "core competencies" for patients and families to involve in the area of patient safety.
Registrations are open until the 28th of October, so don't hesitate!
To know more about the event, click here.
Contact persons:
Sara Gayarre, Communications Assistant
Véronique Tarasovici, Office and Events Manager