July 2017 – A Memorable Year for Our Youth-Related Activities!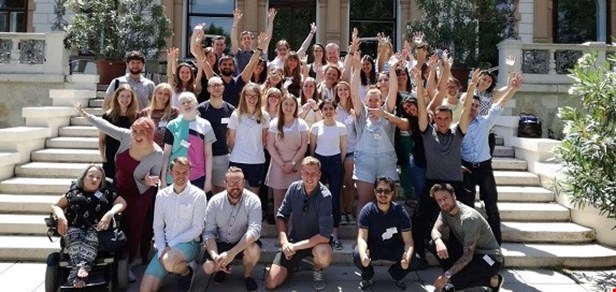 EPF believes young patients are the future of patient advocacy. This is why we strengthened our youth-related activities in 2017 with the first edition of the EPF Summer Training Course for Young Patient Advocates. In the meantime, the EPF Youth Group wrote a new page of his story, with the election of a new Board.
The Summer Training Course for Young Patient Advocates – Leadership Programme is an exciting and unique opportunity offering a tailored high-quality training to young patient advocates or representatives of young patient advocates who have the motivation to learn more about the advocacy and maximise their leadership potentials in real environment. The first Summer Training Course was held 3rd to 5th July 2017 in Vienna, Austria, and focused on Anti-Discrimination.
Non-discrimination is a fundamental element in human rights law. What rights and responsibilities do young patients have? Which groups are most vulnerable to accessing health care on the basis of discrimination? What can be done to ensure that patients, in particularly young patients, stop facing stigma and discrimination within their national healthcare system, work and wider environment? How young patients' advocates can have a bigger participating role in their own organisations and decision-making processes in their respective countries?
Participants in the Course had the opportunity to take part in:
An online assessment of their knowledge, attitudes, beliefs, or skills prior to the start of the programme to help the trainers design the training and develop the training resources accordingly.

An intensive face-to-face training from 3rd to 5th July 2017 in Vienna. The training focused on:
Self-Leadership

–

assessing participants

'

leadership roles and learning how to become more resilient when facing stigma and discrimination.
Leading Patients

'

Advocacy Organisations

–

practicing how to initiate changes within the patient organisations to organize themselves and better fight against discrimination.
Advocacy: Leading to influencing changes at the institutional level

–

developing advocacy strategy and plans in order to overcome discriminatory practices.
Advocacy: Leading to influencing societal change

–

exploring various real case studies about people rights movement across the world and their long-term efforts in changing misperceptions and prejudices
3.The follow-up phase during which the trainers provided guidance, individual support and advice to each participant during the implementation of their advocacy campaigns.
The intense programme of the Summer Training Course, coupling interventions from experts with the very practical workshops, certainly has the potential to help young patient advocates in their journey towards better and more impactful patient advocacy. Judging from the very positive feedback, the first edition of this newly branded EPF programme was a success and helped to strengthen the bonds within this very unique, motivated and inspiring community of young patient advocates!
EPF Youth Group elects a New Leadership!
The EPF Youth Group held its internal elections for new Board members in October, in Leuven, Belgium:
Andreas Christodoulou – elected as President of the EPF Youth Group

Yolita Pavlova – elected as Vice-President of the EPF Youth Group
Andreas is 27, from Cyprus with a Computer Sciences background. By the age of 17, he was diagnosed with a rare chronic condition called IPT (inflammatory pseudotumor) disease. His experience as a cancer survivor incited him to join the Pancyprian Federation of Patient Associations and Friends and to work for the biggest Cancer Awareness Association in his country.
Yolita is 26 from Bulgaria where she studied Sociology. She is a Youth Representative with the Confederation "Health Protection" Bulgaria and joined the EPF Youth Group in 2012.
Priorities for 2018: raising awareness on chronic and invisible conditions
The rest of the meeting focused on potential projects and networking events for 2018. The Youth Group hopes to once again participate in the YO!Fest festival, which will be held in Strasbourg on 1-2 June 2018, with a stand hosting interactive games and activities that will help visitors understand how young patients with chronic and/or invisible condition feel and the challenges they face every day.
The Youth Group also refined the roles and responsibilities of its members and discussed a few additional ways the members could all support member recruitment and EPF's policy and advocacy work.
Contact person: Danielle Flores, Project Officer.