A Roadmap to Achieve Universal Health Coverage for All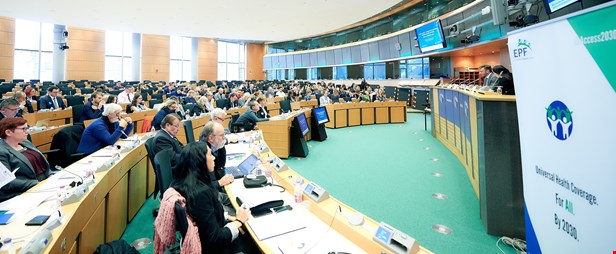 Ensuring healthy lives for all is a cornerstone of sustainable development. However, patients and citizens still face many unmet needs and unequal access to healthcare in all EU Member States. In December 2017, we organised a high-level policy roundtable to present the conclusions and outcomes of our Campaign on Access to Healthcare, including the Roadmap to achieve Universal Health Coverage for All by 2030.
The roundtable was an opportunity to discuss some key political actions to ensure the rights of all patients are respected, and showed the commitment of civil society to make health a priority at national and EU levels.
At the meeting, the campaign's champion MEPs presented the conclusions and recommendations of the campaign's policy areas. They also showed their commitment to push for change and legislative tools in order to end discrimination, to promote better coordination of care, to reflect on patients' needs and to make health a priority for the EU. "The European Parliament supports continued EU health collaboration and a strong EU healthcare policy to address common challenges; as it proves the letter on the future engagement of the EU in health, signed by more than 80 MEPs and sent to Juncker," said MEP Andrey Kovatchev (EPP, Bulgaria).
A tool for political guidance and a call for a long-term vision
Another key element of the meeting was the launching of the main outcome of the campaign: a Roadmap to Achieving Universal Health Coverage for All by 2030. "With this Roadmap we want to provide political guidance and recommendations to policy makers, to encourage them to have a longer-term vision and to reflect on what kind of society we want for the patient community and the wider public by 2030," said Nicola Bedlington, EPF Secretary General.
UN Sustainable Development Goals as a compass
The panel discussion focused on the UN Sustainable Development Goals (SDGs) and how achieving Universal Health Coverage is fundamental to their successful implementation. "If we don't get it right on the SDG on health, we risk to fail on other SDGs as well," said Nicola Bedlington.
In this vein, the Roadmap will be extremely useful, as it emphasises the importance and need to establish a transparent, inclusive and collaborative working process to make access to healthcare a reality for all and, by the same token, to properly implement the 2030 Agenda for sustainable development.
There has never been a stronger case, or a more vital moment for Europe to work together to protect our health, and for this reason it is essential that this is not only maintained, but continuously improved. Health protection and improvement is a great success story of the European Union and closer cooperation and collaboration between Member States will empower and equip countries with the necessary tools to tackle health inequalities. "When it comes to health protection, the EU has the same level of competences as the Member States. Let's discard the timidity that prevents the EU from acting!," said Nina Renshaw, EPHA Secretary General, during the event.
More information
The report of the meeting will be soon available.
For EPF's Roadmap entitled 'Taking Action – A Roadmap to Achieving Universal Health Coverage for All by 2030', please click here. A factsheet giving a snapshot of this Roadmap has also been developed.
Contact persons:
For communications around the campaign: Sara Gayarre, EPF Communications Officer
For policy: Katie Gallagher, EPF Policy Adviser