Factsheet on Roadmap for Universal Health Coverage now available in several EU languages!(2)

The factsheet, summarising the main points of the Roadmap for Universal Health Coverave is now available in 13 different EU languages to allow EPF members to advocate at national level.
In December 2017, EPF published the Roadmap to achieve Universal Health Coverage for All by 2030 as the main outcome of EPF Campaign on Access to Healthcare. Being a key tool for political guidance and a call for a long-term vision, we created also a factsheet summarising the main points, to facilitate EPF members to advocate at national level.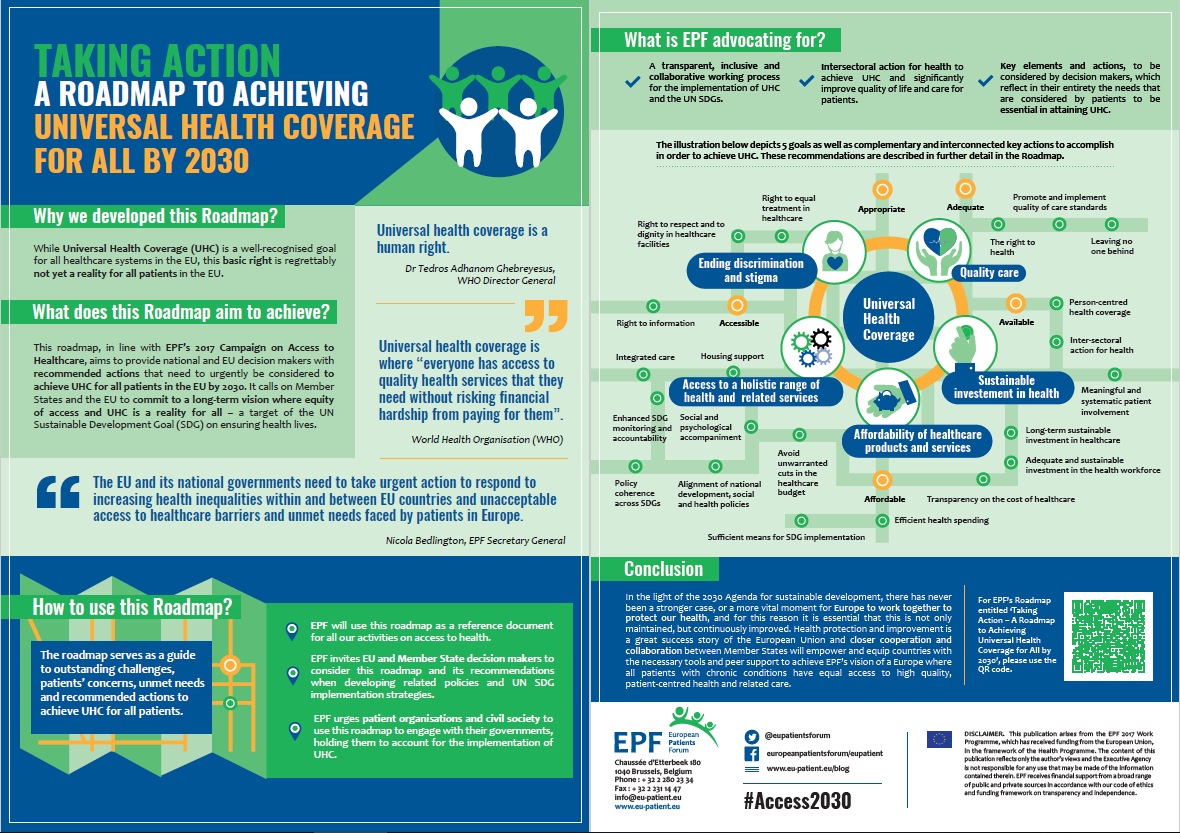 The Roadmap aims to provide EU and national decision makers with recommendations that need to urgently be considered to achieve Universal Health Coverage (UHC) for all patients in the EU by 2030. It calls on Member States and the EU to commit to a long-term vision where equity of access and UHC is a reality for all.
What is the Roadmap for?
This Roadmap is intended mainly for EU and Member State decision and policy-makers and urges them to:
Provide equitable access to high-quality care to all patients, regardless of which country the live in or their country of origin;
Commit to invest sustainably in healthcare based on outcomes and added value;
Ensure the delivery of healthcare products and services that are affordable for all;
Promote better coordination of care and implement access to a holistic range of health and related services, ensuring that the package of services covered by the healthcare system is tailored to the needs of patients;
End the discrimination and stigma that patients face and make sure that no population is excluded.
How can you use the Roadmap?
EPF invites patient organisations and civil society to use this roadmap to engage with their governments, holding them to account for the implementation of UHC. It calls for intersectoral action for health and a fundamental change in Europe's approach to healthcare access, to achieve UHC and significantly improve quality of life and care for patients.
The full Roadmap is only available in English (here) but you can look for your linguistic version of the factsheet here!
Contact persons:
For communications around the campaign: Sara Gayarre, Communications Officer
For policy: Katie Gallagher, Policy Adviser