EPF Summer Training Course: Campaigning for Count Us In!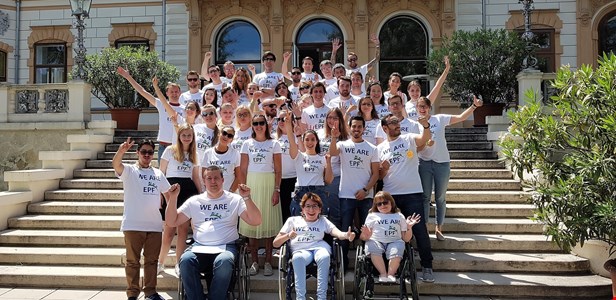 The second edition of the EPF Summer Training Course for Young Patient Advocates took place in Vienna, from 1 to 4 July. Forty young participants got together to share experiences and learn leadership, advocacy and campaigning skills with one main objective: to get ready to become the next generation of patient advocates!
After having followed online tutorials and presentations on patient rights, advocacy and professional networks during the weeks prior to the event, 40 participants coming from 23 different EU countries joined us in Vienna for three days of intensive but inspiring and fun training sessions. The aims of this second edition were ambitious: developing personal leadership skills and learning how to campaign effectively to achieve advocacy goals.
Ed Moss and Dan Moxon from "People Dialogue and Change" were the trainers in charge of leading and livening up the several sessions and group exercises conceived to identify challenges, align thoughts, and provide participants with the tools and techniques that would enable them to become good patient advocates. The young patient representatives had the chance to listen to the inspiring tips of EPF President Marco Greco, who shared with them some of his experiences as a patient advocate and as a leader of a patient organisation. Nathalie Bere, Patient Engagement Specialist working at European Medicines Agency, was also there to explain how patients can engage with the agency and how valuable their input is in medicines development. This session was an eye opener for many participants who discovered how valuable their expertise is and how important is for them to be vocal and speak up for their rights and needs.
Count Us In! Developing together an advocacy campaign
A main outcome of this edition is the implementation of the Count Us In! campaign, an advocacy campaign aiming to raise awareness of the issues faced by young patients, namely patient discrimination. The campaign was shaped during the training in Vienna and will be driven forward by the participants of the course during the next few months.
Divided into different groups depending on the target audience, participants will learn, by walking the talk, how to approach decision makers, other patients and the general public. By unlocking as many advocacy challenges as they can, they will put in practice the communications tools needed in campaigning, and will improve their skills in creating compelling messages, contacting politicians and gatekeepers, developing publicity material and gather support, and all that in parallel to running a real campaign out there. Stay tuned to know more about its development and reach!
EPF Youth Group as key player
Several EPF Youth Group members were also present at the EPF summer course, not only as participants but also as organisers. Having been involved in the first edition, they had the experience and ideas needed to help EPF staff and the trainers to shape the programme. In addition, their input onsite was much appreciated by participants, as they contributed in several sessions and led the whole group in different activities. They also had the chance to share with the group their expertise so far in campaigning and explaining to participants how they are organised as a group, on which topics they are currently working, and how to become involved in the youth group.
For more information about the EPF Youth Group, please visit its webpage.
More information
If you want to know more about how the sessions were developed, check the hashtag #WeAreEPF on Twitter. And don't forget to click here to see the pictures of the event!