EUPATI Guidance on Patient Involvement in HTA published in Peer-Reviewed Journal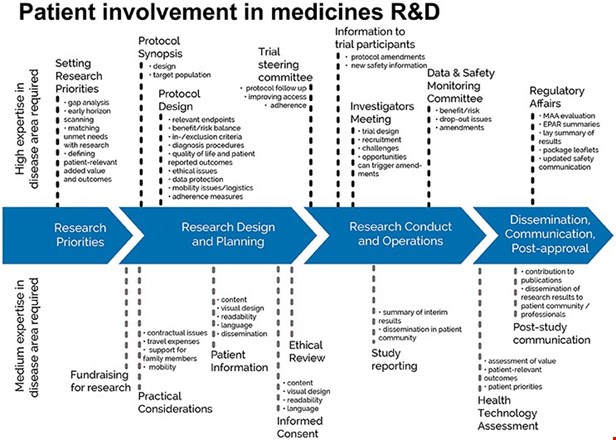 The EPF-led European Patient Academy on Therapeutic Innovation (set up by the IMI-EUPATI project in 2012-2017), developed guidance documents for patient involvement in key areas of medicines research and development.
The guidance on Patient Involvement in HTA has now been published as an article in the journal Frontiers in Medicine. This is a valuable and citable resource available for anyone working in HTA who wants to work better with patients; and patient advocates who wish to showcase the value of and opportunities for more patient involvement.
What is HTA?
Health Technology Assessments (HTA) aims to inform decision making by health care policy makers. It is a process that assesses the use of health technologies, such as medicines, and can involve a review of clinical and cost effectiveness and social and ethical impacts on health care system.
Patients can provide information and insights about the impact of their condition and treatments on their daily lives. They are in a unique position to inform HTA processes about new and existing technologies. Both HTA bodies and patient organisations have reported a positive impact of patient involvement on the processes and outcomes of HTA.
What does the EUPATI guidance add?
The EUPATI guidance provides a substantial literature overview on the scientific and democratic reasoning for meaningful patient involvement in HTA. It provides recommendations for activities to support and improve patient involvement in HTA bodies, and specific guidance for patient involvement in individual HTA processes.
Published in early September, the guidance has already had 1373 views and is ranked in the top 5% of research outputs (among more than 11 million research outputs).
Access the full article here for. Do not hesitate to share the article on social media using the hashtags #EUPATI and #patientsinvolved!
Contact person
For more information please contact: Matthew May: matthew.may@eu-patient.eu