EUPATI Network of National Platforms – Annual General Meeting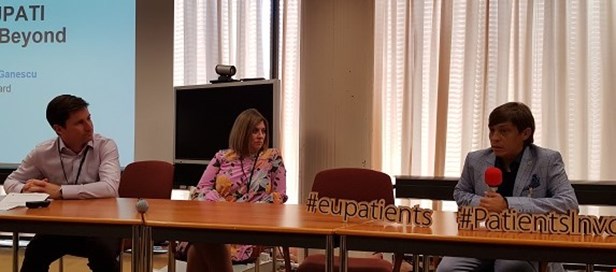 The Annual General Meeting of the EUPATI national platforms took place in Berlin on 9 May 2018. The meeting brought together approximately 50 patient advocates from the 18 European countries where a national EUPATI platform operates, and also the EUPATI project coordinators were present.
However, the meeting really started the day before with a free and semi-structured workshop on the current questions and issues of the network. The various legal structures that national platforms use, the challenges in cooperation with various stakeholders, and the difficulties but also opportunities in fundraising were on the agenda. We deviated from the usual setup and parted with formal presentations. EUPATI network coordinators and staff moderated the discussion, and the outcomes and findings were captured in an interactive mind map that will be shared with all participants alongside some key recommendations.
The AGM started with a presentation from Radu Costin Ganescu, EPF treasurer, alongside Derrick Mitchell from IPPOSI and Beatriz Silva-Lima from the University of Lisbon, co-chairs of the network. The recap on the current state of affairs in the ENP network was followed by discussions and workshops about what the future holds and how EUPATI can further patient education and engagement. There were many relevant questions and useful recommendations, especially as regards the future "business model" of EUPATI that should secure the sustainability and operability of the Expert Training Course and the network in general.
One key finding has been that with the rapid growth of the network, and the emerging patient advocacy movement, a certain degree of professionalisation and organisational development is unavoidable.