HTAi Annual Meeting 2018: Patients Included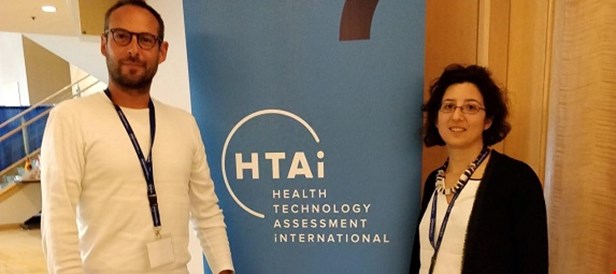 From 1 to 5 June, hundreds of delegates from around the world gathered in Vancouver for the HTAi Annual meeting. The overall theme this year was 'Strengthening the Evidence-to-Action Connection' and, for the first time, the meeting got the label 'Patients Included'.
EPF was represented by Mathieu Boudes, coordinator of PARADIGM and Valentina Strammiello, Programme Manager.
Patient input on HTA
Among many interesting sessions, one very valuable for the patient community was a workshop on building a shared resource of patient experiences and preferences to improve HTA. The objective of the session was to present the burden of patient input on HTA and to identify solutions by developing participants' knowledge of gaps and overlaps in the patient input; by increasing awareness of existing shared resources of patient experience; and by identifying potential collaborators and approaches to build more shared resources.
Patient engagement
Another inspiring session was the panel on patient engagement on HTA, which featured some great initiatives at different stages of implementation.
Looking at the different initiatives led by the Spanish HTA network, the SMC of Scotland and the NICE in England, we learnt about frameworks conceived to take the patient perspective into account during HTA discussions, deliberations and decisions. In addition, the need to also train healthcare professionals – and not only patients – was highlighted.
Early dialogues
In line with the overall theme of the congress, a session around early dialogues featured the work done by the HTA bodies NICE and HAS. The two bodies have different approaches (where HAS engages in early dialogues through EUnetHTA, NICE has developed its own national process). This poses a real challenge because of fragmentation and consequently different expectations from HTA agencies. However, despite such barriers, EPF supports all the efforts done in these processes because we believe that once all obstacles are overcome, they will bring clear added value to the medicine development plan to foster patient access to high-quality innovative products.
Conclusions
The final plenary session was about connecting the dots to ensure more efficient HTA processes. The delegates attending this session agreed that, overall, the HTA process is still not efficient. What an eye opener to the HTA community! We, at EPF, support also all the initiatives aiming to streamline HTA, starting with more integration of non-country specific matters such as collection of real world data, relative effectiveness, and burden of diseases.
We already look forward to the HTAi Annual Meeting 2019 in Cologne where discussions will focus on HTA beyond 2020, hopefully counting in the future of EU collaboration in HTA.
More information
Health Technology Assessment International (HTAi) is the global, non-profit, scientific and professional society for all those who produce, use, or encounter health technology assessment (HTA). HTAi represents 82 organizations and over 2,500 individual members from 65 countries around the world.
For EPF, the relationship with this society started a while back through our involvement in the Patient & Citizen Involvement Interest Group as an opportunity to get visibility for our work in the field of HTA among the international HTA community. Moreover, both EPF-led IMI flagship projects EUPATI and PARADIGM have a strong HTA focus on what is currently missing - and therefore will need to be developed - to bring the patient voice more systematically into HTA decision-making processes.
Contact persons:
Mathieu Boudes, PARADIGM Coordinator
Valentina Strammiello, EPF Programme Manager