Meet the newest member of the EPF Youth Group!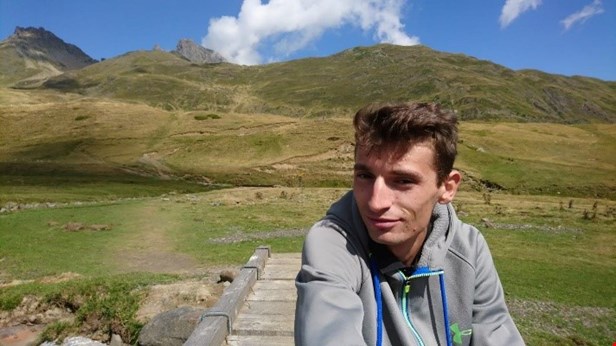 Martin Mastrotto is 23 years old and comes from Pau, a town in the South-West of France. He is studying electronic engineering for plane onboarded equipment at the University of Bordeaux. He also works as an apprentice engineer for Safran Group in Marignane, France.
Martin has a very interesting story to share about his condition. When he was 17, he was diagnosed with Ulcerative Colitis (UC), an inflammatory bowel disease (IBD) which affects the whole colon and cannot be treated with current technology. Ever since, it has been an everyday struggle for him, from the constant pain in the stomach to the lack of understanding of the school teachers, friends and colleagues. The most difficult thing is finding the right balance between following his school curriculum or professional career, and preserving his guts' condition.
As the first few years after the diagnosis were very tough, he decided to get involved in patient advocacy as soon as his health improved. It was then that he first discovered the Association François Aupetit, a 35-year-old French association that supports patients and relatives with IBD but also giving grants every year to support scientific research and negotiates with the government for better healthcare and reimbursement of IBD treatments. It is currently the biggest IBD patient association in France.
In 2017, Martin decided to become an active member of the local branch in Bordeaux to be closer to other patients and their families and, at the same time, help them through the hard times he had experienced himself.
Later, he also joined the European Federation of Crohn's and Colitis Associations (EFCCA), and then the EFCCA Youth Group, a European committee representing 30+ IBD patient organisations across Europe. They meet every summer to establish a work plan for the coming year and elect the board representatives that will have to manage the projects and pass information on to the EFCCA main board. This summer Martin was elected as a board member and he intends to be more and more involved in advancing the wellbeing of young patients in Europe. He completed a training on advocacy at the EFCCA Academy in order to improve his skills and knowledge on patient advocacy and public communication.
Martin is joining the EPF Youth Group as an EFCCA YG representative to keep advocating for all patients' rights. This experience as a volunteer is new to him: he is eager to join a new community and use new skills to improve his work as a young patient representative in a European dynamic. He aims to be both close to the patients with their everyday challenges and to look beyond to make things go further at a higher level.
Contact person
Please feel free to contact Martin for more information about his experience: mastrotto.martin@gmail.com.