Paradigm: a unique collaboration for better patient engagement in medicines development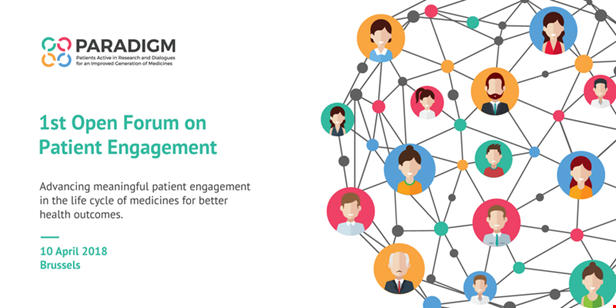 Brussels, 10 April 2018 – A brand new collaboration between 34 public and private partners was launched today, with the aim to make meaningful patient engagement in the life cycle of medicines a reality. PARADIGM stands for Patients Active in Research and Dialogues for an Improved Generation of Medicines and is funded by the Innovative Medicines Initiative.
The PARADIGM consortium is led by European Patients' Forum and EFPIA and comprises a mix of partners from patient organisations, regulatory bodies, universities, non-for-profit organisations, SMEs, trade associations to pharmaceutical companies.

Patient engagement in biomedical research is key for better health outcomes. PARADIGM will build on existing tools, fill knowledge gaps, define how to make all tools available to those who need them, raise awareness amongst those who think they don't need them and build a sustainable roadmap for patient engagement.
At the end of the 30 months life span of the project, patients and researchers will have access to a framework that allows structured, meaningful, sustainable and ethical patient engagement throughout three key decision-making points of the development of medicinal products: the research priority setting; the design of clinical trials and the early dialogues with regulators and HTA bodies.
To achieve these ambitious goals, PARADIGM is joining forces with other patient engagement initiatives, and organises the First Open Forum on Patient Engagement with EUPATI (European Patients' Academy on Therapeutic Innovation) and PFMD (Patient Focused Medicines Development).
"The First Open Forum on Patient Engagement is a stepping stone toward synergies and alignment between the project partners and extended patient engagement community. In the coming months, PARADIGM will invite researchers, patients, regulators, HTA bodies and all other biomedical research players to join the extended project community and engage to provide different perspective and input," says Mathieu Boudes, PARADIGM Project Coordinator. "The project will promote two more Open Forum on Patient Engagement, that will be open to other initiatives to contribute."
"In this landscape PARADIGM represents, quite literally, a very timely paradigm shift," says Nicola Bedlington, Secretary General of the European Patients' Forum, "and goes hand in hand with the universal recognition of the importance of patient education, as demonstrated by EUPATI, and a similar need to embed patient involvement in wider health systems' design and strengthening."
"Patient engagement becoming a reality and a standard practice will have a genuinely ground-breaking effect on biomedical research as it will make it more focused on people's needs," says Madga Chlebus, Executive Director of Science Policy & Regulatory Affairs at EFPIA (European Federation of Pharmaceutical Associations). "The public private Innovative Medicines Initiative with its aim to modernise medical research, is a perfect platform for this objective and the perfect springboard for PARADIGM."
About PARADIGM:
PARADIGM is a public private partnership funded by the Innovative Medicines Initiative and EFPIA members. It was launched on 1 March 2018 and will run for 30 months, until August 2020.
The 34 partners of PARADIGM are the European Patients' Forum, EURORDIS-Rare Diseases Europe, European AIDS Treatment Group, Alzheimer Europe, AIFA, HTAi, Centre for the Advancement of Sustainable Medical Innovation from the University of Oxford, Instituto Aragones de Ciencias de la Salud, the Athena Institute from VU Amsterdam, the European Forum for Good Clinical Practices, Foundation San Joan De Deu, Synapse, the Synergist, Bayer, MSD, Merck, UCB, AMGEN, Grünenthal, GlaxoSmithKline, Janssen, Eli Lilly and Company, Lundbeck, Novo Nordisk, Pfizer, Roche, Servier, Sanofi, Novartis, Covance, Alexion, European Federation of Pharmaceutical Industries and Associations, The Association of the British Pharmaceutical Industry and Verband Forschender Arzneimittelhersteller.
-----
Contacts & interviews:
Letizia Gambini, Communications Manager, EPF – letizia.gambini@eu-patient.eu
Magda Chlebus, Executive Director of Science Policy & Regulatory Affairs, EFPIA – magda.chlebus@efpia.eu