Patient engagement as a de-risking element of medicine development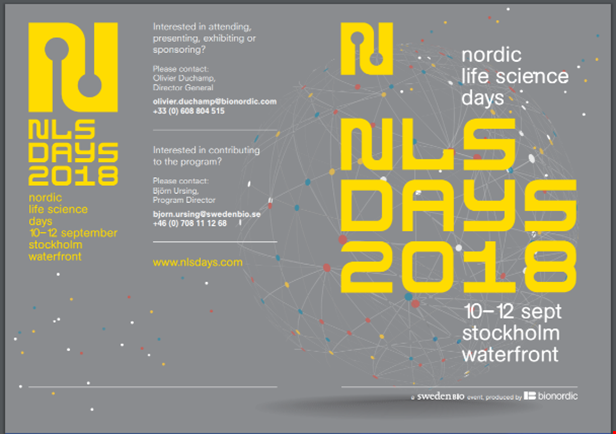 The Nordic Life Science Days (NLS Days), the largest Nordic partnering conference dedicated to the life science industry, took place in Stockholm on 10-12 September.
Since its inception in 2013, the event has nurtured a community of people from the world of life science, creating a unique place to do business.
NLS Days attracts leading decision-makers from biotech, pharma and MedTech as well as finance, research, policy and regulatory authorities. Participants came from all over the world, with a clear majority from North Europe (60%), other European regions (30%) and North America (5%).
Mathieu Boudes, coordinator of the IMI-PARADIGM project, chaired a session on patient engagement: what does it mean? Panelists included Hanne Damgaard Jensen from small biotech company ROS Therapeutics, Ana Palma from a company specialized in rare diseases, Sobi, Marc Gailhardou, managing director of MSD Sweden, and Markku Toivonen from a consulting company in the regulatory space, NDA Group.
The take-home message cannot be clearer: patient engagement is seen as a way to de-risk the development of medicines (short video from Boudes) in several ways.
"Engagement with patient representatives increases the likelihood that the clinical programme can be completed, and that it will generate results that are interpretable from the point of view of relevance to patients. Further return on patient engagement by regulators and the industry can be readily identified in benefit-risk assessment in the final stages of marketing authorisation application review," said Markku Toivonen.
Ana Palma added that we now live in an era where pricing and reimbursement are no longer a matter to be dealt with after regulatory approval. The degree of evidence required by health technology assessment agencies and payers needs to be discussed and agreed before the design of a clinical trial is set up.
The diverse voices in the panel all agreed on Hanne Jensen's statement "no one can act as a proxy for the patient voice." Concretely measuring the value of engagement is still immature field, with a lack of actionable tools and methodologies, so unfortunately it is not embedded in practice yet, said Marc Gailhardou.
For this reason PARADIGM has a workstream focusing on this issue that will develop agreed patient engagement metrics with validated tools. This will help increase the evidence demonstrating the impact and added value of patient engagement practices.
The Nordic Life Science Days 2019 will be held in September in Malmö.
Contact person
For more information please contact Mathieu Boudes: mathieu.boudes@eu-patient.eu