Peer-Reviewed EUPATI Guidance on Patient Involvement in Regulatory Processes published in Frontiers in Medicine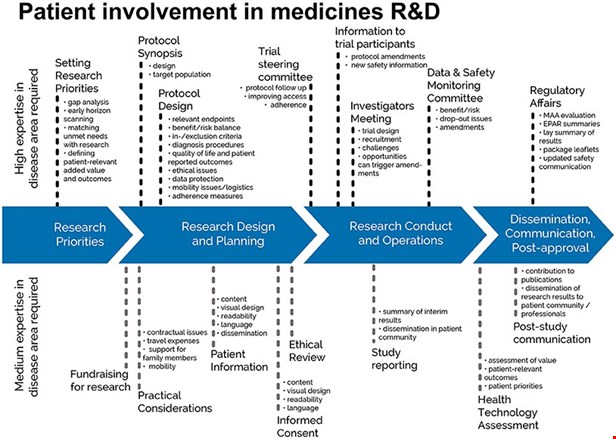 The EPF-led European Patient Academy on Therapeutic Innovation (set up by the IMI-EUPATI project in 2012-2017) has published guidance for patient involvement in key areas of medicines research and development.
The guidance on Patient Involvement in Regulatory Processes has now been published in Frontiers in Medicine – Regulatory Sciences. This is a valuable and citable resource available for everyone working in and for regulatory authorities and those of us who want to see good patient involvement become the new normal, not something championed by a few.
Patient Involvement in Regulatory Processes
Regulatory authorities include both national competent authorities (regulatory agencies) and the European Medicines Agency (EMA). The involvement of patients with the EMA is determined by European legislation. Patient involvement in regulatory issues varies considerably between countries and regions in Europe.
Building transparency and trust with patient communities through their active engagement is the main aim to guide patient involvement in medicines regulation. The experience already acquired demonstrates that the participation in regulatory processes – such as in EMA activities – is moving towards to the main objective mentioned above.
What does the EUPATI guidance add?
The publication covers the interaction between patients and medicines regulatory authorities in relation to medicines for human use. It expands on the EMA framework, specifically including national competent authorities (NCAs), sets out aims for patient involvement in medicines regulation, and suggests working practices aligning with the values seen in guidance published for patient involvement with other stakeholders.
EUPATI developed this guidance for regulatory authorities wishing to interact with patients or their organisations in their activities, but it should also be considered by patients/patient organisations planning to collaborate within regulatory processes. Like the other three guidance documents, it was drafted by a multi-stakeholder group and underwent a public consultation soliciting input from around the globe.
Published in early August, the guidance has already 3.086 views, more than 65% of all Frontiers articles.
Access the full article here, it is free and can be downloaded for offline use. Do not hesitate to share the article on social media using the hashtags #EUPATI and #patientsinvolved.
For more information please contact Matthew May.