Peer-Reviewed EUPATI Guidance published in Frontiers in Medicine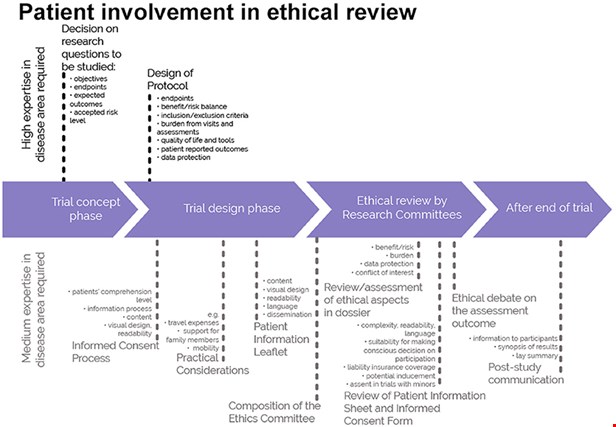 The EPF-led European Patient Academy on Therapeutic Innovation (set up by the IMI-EUPATI project in 2012-2017) has published guidance for patient involvement in key areas of medicines research and development.
The guidance on Patient Involvement in Ethical Review of Clinical Trials has now been published in Frontiers in Medicine – Regulatory Sciences. This is a valuable and citable resource available for everyone working in clinical research and those of us who want to see good patient involvement become the norm, not the exception.
The guidance gives practical recommendations for ground rules and lists options for conditions and practices for involving patients in the work of ethics committees to enable trustful and constructive collaboration whilst recognising that the legal frameworks for involving patient vary on national and regional levels.
Patient Involvement in Ethical Review of Clinical Trials
A clinical trial is the stage of clinical research in which a new therapeutic or medical intervention is evaluated for effectiveness and safety. Before any clinical trial can begin recruiting participants, it must receive a positive ethical opinion, this is given by an ethics committee, or research ethics committee (REC) which comprises individuals representing a diverse group of stakeholders and professional expertise. The clinical trial regulations require one of the members to be by a lay-person though it is believed by many that involving a patient adds a very different added value.
What does the EUPATI guidance add?
The publication covers patient involvement in ethical review of clinical trials. These aspects need to be considered in any step of the clinical trial, from definition of the research questions and protocol conditions, to informed consent preparation, to ethical review by ethics committees and to provision of information on trial results to the public.
The guidance has been developed by EUPATI for all stakeholders in medicines development involved in the ethical review of clinical research projects, in particular for members of research ethics committees and patients/carers or patient representatives providing patient input.
Published in early September, the guidance has already 1727 views.
Access the full article here, it's free and can be downloaded for offline use. Do not hesitate to share the article on social media using the hashtags #EUPATI and #patientsinvolved.
For more information please contact Matthew May.