The EUPATI face-to-face training event in Madrid: 4 days of fun and hard work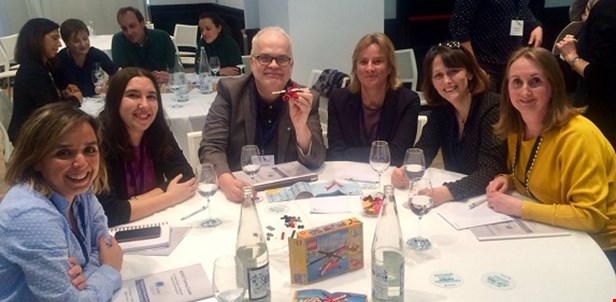 The third cohort of the EUPATI Expert Training Course has been running since October 2017. Traditionally, the course also includes two face-to-face training events to complete the hundreds of hours of online learning elements with personal interactions, lectures, workshops and ample time for the participants to make friends with each other and the course team.
EUPATI is unique from many aspects. It was a flagship project for patient involvement with IMI when it started in 2012; it is an unparalleled public-private partnership in patient education and health information that includes, under the leadership of EPF, patient umbrellas, regulators, industry and academia; and it is also unique in the consistent use of the blended learning process in the expert training course, which is based on contents produced in a rigorous quality assurance process.
This year, the first face-to-face event was held in Madrid between 26 February and 1 March. With the course participants and the course team and tutors, more than eighty people gathered in a downtown hotel for four days of intensive learning and exchange of experience. Good food, much coffee, and a little bit of wine in the evenings made sure that the participants could keep up with the merciless curriculum – the EUPATI course is extremely intensive. But it is also very rewarding: experience shows that EUPATI fellows (members of the Alumni Network) are deeply embedded in and active contributors to regulatory processes, research bodies, patient organisations and umbrellas all over Europe.
The various modules of the EUPATI course include substantial learning materials in the fields of clinical trial design, statistics, pharmacovigilance, medicine discovery, regulatory affairs, and also HTA processes and principles. A recap on these issues was complete with practical exercises about how to read and interpret scientific papers, how to critically assess and evaluate clinical study protocols, and how ethics play a role in the work of patient experts like the advocates who graduate from the EUPATI course. Fun was also involved, and the ice-breaking session on team building involved Lego!! (see picture)
As one participant said towards the end of the event: "I would have never though that I will want to do more statistics. It's actually fun!" Sometimes, you can do magic in a study course, and these four days with a bunch of dedicated patient advocates were truly fascinating.
The second face-to-face training will be held again in Madrid in September 2018.
For more information: www.eupati.eu