EPF Congress 2019 focuses on patient safety – join us!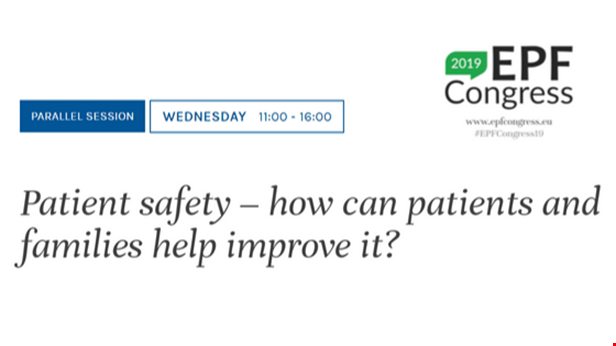 Patient safety is both a goal (a state of being that is free from harm) and a practice (processes and structures that aim to make healthcare safer). Patient safety is a system property and the foremost attribute of quality of care as defined by the WHO. No one should be harmed in healthcare. And yet… according to the WHO:
134 million adverse events occur each year due to unsafe care in hospitals in low- and middle-income countries, contributing to 2.6 million deaths annually
15% of hospital expenses can be attributed to treating patient safety failures in OECD countries

4 out of 10 patients are harmed in primary and ambulatory care settings, when up to 80% of these harms could be avoided.
Patient harm undermines the quality of care and the patient's experience of care. It weakens the relationship of trust between patients and healthcare professionals, and it poses a significant financial burden to health systems. Medication safety alone is related to 25% of preventable harm according to recent data.
Patients, families and patients' organisations play a key role in helping make care safer. Research suggests that lay expertise could be the backbone of patient safety, including in acute illness. Patient and family contributions should be recognised, valued and enabled at all levels through more participatory healthcare practices and culture. EPF has taken this message forward with a conference in 2016 titled "Patient and Family Empowerment for Better Patient Safety" and our 2017 "Proposal Regarding the Development of Key Competencies for Patients, Families and Carers in Patient Safety".
There are well-known barriers to increasing patient and family involvement in safety issues – including patients' worries not being taken seriously; persistent hierarchical culture; and the disempowering nature of some healthcare settings. Ultimately, it is necessary to embed a patient safety culture in all healthcare environments, where patients' experiences are valued and their participation welcomed.
Since 17 September is officially #WorldPatientSafetyDay, it is timely that this is one of the topics chosen for the parallel working sessions on day of the EPF Congress.
One of the essential working sessions of the EPF Congress is dedicated to patient safety, and the role of patients and families. The session builds on previous work by EPF and shows how patients can contribute to improving safety, what barriers exist and how they can be overcome. You will hear from the patient perspective what is missing today; learn about new initiatives to measure patients' experiences and patients' reports of safety incidents; implementation of partnership approach in a hospital setting; and bringing together patients, families and healthcare managers to change culture.
Who should attend the Congress session on patient safety?
Our session is for anyone interested in patient safety and healthcare quality improvement as well as patient and family engagement. If you are a healthcare professional, hospital or other healthcare manager, or a researcher in this arena – the session is for you!
Register at the Congress through this link.
Contact EPF for more information: policy@eu-patient.eu