EPF holds vaccination workshop for Patients with Chronic Conditions in Romania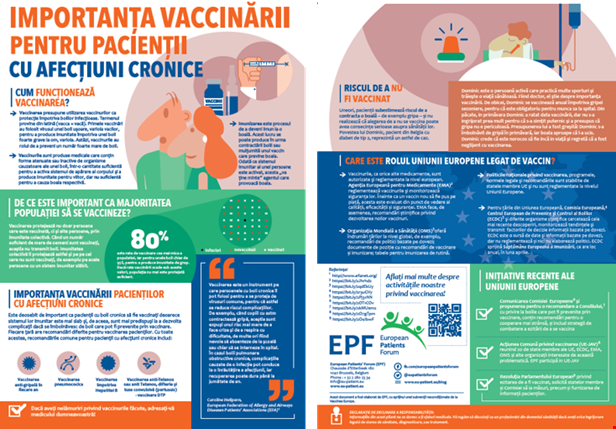 On 24 May, EPF co-organised a workshop on vaccination for patients together with COPAC, the Romanian national patients' umbrella organisation. This workshop was the second one organised in Romania, following the first event held on 1 November 2018 in Bucharest. It is part of an initiative by the European Patients' Forum to enhance vaccination uptake among persons with chronic conditions.
The Bucharest workshop had opened public discussion in Romania on this important theme and resulted in activation of the patient organisations. During the six months following the meeting, the subject was continuously on the public agenda, driven by the community of patients.
COPAC has since then partnered with medical societies to call for compensation for vaccination for patients with chronic conditions, and started a research project regarding the attitudes of health professionals towards vaccination.
With the second workshop we involved the regional patient community from around Cluj and as a key outcome, COPAC will now take its position and demands to the Romanian Ministry of Health. EPF will of course continue to support this work.
EPF's work with national patient communities will continue with a pilot workshop in Germany, in collaboration with the national patient organisation BAG-Selbsthilfe, on a date to be decided in the second half of this year.
For more information please email policy@eu-patient.eu