EPF signs Dying to work EU Employment Charter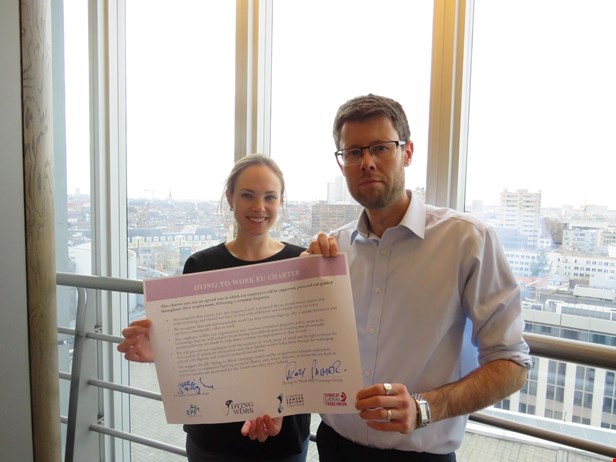 Over the past years, EPF has been advocating for better inclusion and protection of people with chronic conditions in the work place, combatting discrimination.
In 2018, EPF supported the launch of the cross-party MEP-led Dying to Work EU Campaign , which is about securing better protection for employees who have been diagnosed with a terminal illness. As it currently stands, there are no protections for terminally ill employees under EU law. This is what the Dying to Work campaign wants to change.
Earlier this month, EPF signed the Dying to Work EU Employment Charter. The voluntary charter provides an important opportunity for employers to commit to securing the strongest employment protections for workers with terminal illnesses across the EU.
When people are diagnosed with a terminal illness, the nature of the illness is such that the person is unlikely to be able to work again. In some cases, a person may decide that they do not want to work anymore. However, many will choose to stay in their job for as long as possible, not just for financial reasons but for the dignity and self-esteem which meaningful employment provides. Whichever choice a person makes, they should be able to expect help and support from their employer. Unfortunately, the experience of many workers is that their employer is either unsympathetic or puts up barriers to them continuing in work.
The Dying to Work campaign, originally a UK-driven initiative, is now seeking to move beyond UK workplaces and is aiming to secure stronger employment protections for workers with a terminal illness on an EU-wide basis. Working with partners including the European Cancer Patient Coalition, Breast Cancer Care, Marie Curie and the European Patients' Forum, the campaign is progressing at a European level. A new cross-party group of MEPs from different Member States is leading the campaign, and recently Eurostar became the first EU based company to sign the charter. We hope to maintain this momentum.
In this context, as a partner and supporter of the Dying to work Campaign and Charter, EPF invites organisations and employers to sign the charter. Please do so by getting in touch with us or communicating your interest directly to MEP Rory Palmer's office.
For further information, please contact Katie Gallagher.