EPF Youth Group Fall Meeting 2019: Elections and powerful start to a new project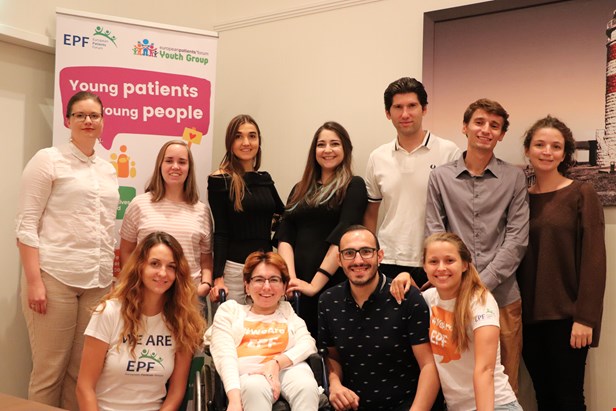 By Jana Popova and Borislava Ananieva (Members of EPF Youth Group)
This year's EPF Youth Group Fall Meeting took place from 6 to 8 September in the beautiful city of Budapest, Hungary. The meeting started with an official welcome to all members. In the afternoon the Group kicked off with a discussion on their favorite initiative: Work and Youth Strategy (WAYS) project. Stay tuned for more information!
There was a valuable reflection on the Summer Training Course for Young Patients Advocates 2019. Once again, the Training Course was recognized by the Group as one of EPF's best initiatives and actively involved most members of the Youth Group. Lastly, the Youth Group will continue to play a crucial role in EPF's activities and it is ready to accept new members in the upcoming months – information on this will also follow!
2020 - A new project is around the corner…
The second day of the meeting started with a discussion about a new project, which will be on sexual health and sexuality education. This was a valuable exchange of information and ideas which led to many positive directions about the development of the project throughout 2020. All Youth Group members are very excited about this upcoming activity, because it will be focused on specific aspects of life of young people with chronic conditions. We all believe that this project will initiate positive changes on how to break stigma around young patients and their sexual health/sexuality education. EPF Youth Group members also focused on the upcoming EPF Congress and the role of the Group in it. Members of the Group are going to take part in the Congress, presenting the youth perspective and speaking about our latest projects.
Congratulations to the new EPF Youth Group Board!
In addition to all wonderful activities and fruitful discussions, we held elections for the new Board. We are pleased to announce that the longest-serving member of the Group, Borislava Ananieva, has been voted as the next President and together with our newest member, Ivett Jakab, who has been chosen to be the Vice-President, she will form the new Board! Furthermore, EPF and the Youth Group would like to thank Andreas and Yolita for their dedication and the magnificent work that they have done during their 2017-2019 mandate.
Find more information about EPF Youth Group here.