Bringing Patient Engagement to the EATRIS-Plus Annual Meeting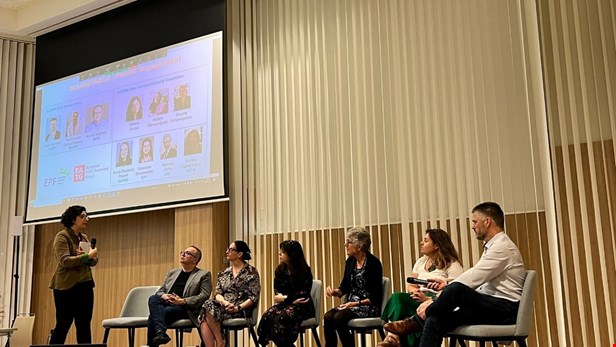 On 9 and 10 May, the EATRIS-Plus project held its annual meeting in Malaga, Spain. This was the first in-person meeting since the pandemic, where the European Patients' Forum was able to attend together with members of the project Patient Advisory Committee (PAC). The European AIDS Treatment Group (EATG) also attended, in their capacity as coordinators of the PAC.

The team met face-to-face for a preparatory session on Monday morning, after two years of collaborating online. The group was debriefed on the progress so far, the results of the previous PEOF April session on patient involvement, and prepared for their intervention the next day.

At the consortium wide meeting, the PAC participated in a Patient Engagement roundtable, together with researchers from the consortium, to discuss the challenges and resources needed to effectively and meaningfully engage patients in personalised and translational medicine research. The roundtable featured a lively exchange, highlighting the importance of reminding researchers about the impact of their work, the patients' search for the right researchers, and concluded with a brainstorming exercise on future patient engagement in EATRIS-Plus. The day concluded with a closed meeting of the PAC to align on future actions, in particular the forthcoming toolkit for patient engagement.

Learn more about our work on EATRIS-Plus, and the expected benefits to patients!